---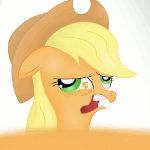 By KathrynXD



Age: 20

Gender: Female

Species: Earth Pony

Cutie Mark: Her cutie mark represents her love for music and music production.

Personality: Perky, Strange, Friendly but is very sensitive.

Backstory: Beat Drop is Vinyl Scratches older sister by a year. When she was a filly she was caught in a cart accident witch resulted in her horn breaking in half. The doctors had it surgically removed so she now has to act as an earth pony. She was left with many scars on her head that she hides with her hoodie.
---
Report Character
---
User Feedback