I know this has come up in various forms before and in several different threads, but with the release of the Season 3 Preview, I find myself revisiting this question, and consider the new information to be of great significance in advancing this particular thesis.

Since Season 1, Episode 2, I have suspected Twilight is being groomed for something very big, and the Season 3 preview strongly hints at this, when Celestia tells Luna that "she will succeed at her task, and when she does, we'll know that she is that much closer to being ready."

Ready for what, exactly? That's what intrigues me, considering the many hints we have already been given throughout the series.

A Light In The Dark




First off, there's the symbolism, which dates back to Lauren Faust's initial concepts for the show. Celestia is the Princess of the Day, and Luna is the Princess of the Night.

Twilight falls between day and night, and can be thought of as both dividing and uniting them. Indeed, as the first pony to assemble the Elements of Harmony in a thousand years -- a power even Celestia can no longer summon -- Twilight Sparkle defeated Nightmare Moon with the help of her friends and reunited the Regal Sisters.

Night and Day brought together by Twilight.

Power Unequaled




Though all of Twilight's friends are required to activate the Elements of Harmony, their power cannot be unlocked without the Element of Magic. Each element has an amulet through which it is channeled, save the Element of Magic. Its power is channeled through a tiara, a crown, and only it can complete and control the power of the Elements.

Twilight is the bearer of the Crown of Magic and the wielder of the Elements of Harmony, the most powerful magic known to ponydom. That is a position of immense power, and with it comes important responsibilities.

Defender Of The Realm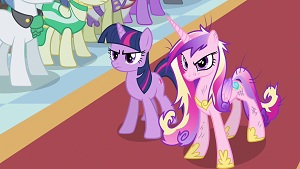 Three times twilight has been entrusted with saving Equestria: against Nightmare Moon, a smoke-snoring dragon, and against Discord. Though she was initially rebuked for distrusting the false Princess Cadance, Princess Celestia eventually charged Twilight to use the Elements to defeat Queen Chrysalis.

In the end the Elements could not be used when the Changelings captured the Mane Six, but it was Twilight who freed the real Cadance and enabled her to combine her power with Shining Armor, thus saving Equestria a fourth time. Without Twilight's direct, repeated intervention, Equestria would have fallen.

Now she has been tasked with saving the Crystal Empire. Not alone, of course. Celestia has gone to great lengths to ensure Twilight never faces such immense challenges alone. But in all cases, she has laid responsibility directly on Twilight's shoulders, and it has always been through Twilight's talent and leadership that the day has been saved.

Keys To Ascension




Twilight Sparkle is, in a sense, Our Little Mary Sue -- although she isn't as perfect as the stereotypical Mary Sue, to be sure.

By all accounts, saving the Crystal Empire will be a dangerous task, and Celestia has made clear that if King Sombra prevails, Equestria itself may very well fall into shadow, to the ruin of all. It is her greatest challenge yet, and Twilight laments, even in song, that she doesn't feel prepared to face it.

But Celestia's aside to Luna suggests that this is just another step toward being "ready", which brings us back to the topic question, and a fair amount of speculation that may or may not be way off, so reader discretion advised.

An Air Of Royalty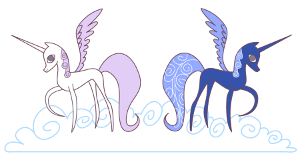 Twilight is a unicorn, but the Regal Sisters and Cadance are Alicorns. We associate alicorns with royal status, but there are apparently princes and princesses who are not alicorns (Blueblood, Platinum, et al). We also see that relatives of alicorns aren't necessarily alicorns.

So what if alicorns are not born, but made? That is to say, what if any pony can become an alicorn through magical means? Considering the spectacular things magic is capable of in the show, that's hardly an impossibility.

A tranformation to an alicorn would not necessarily be required, either, but if she is to ascend to a rank akin to the Regal Sisters, it would be likely -- and she might even be considered a Regal Sister herself. After all, it's not entirely clear how Celestia and Luna came to be.

Despite apparently having many royal relatives, Celestia and Luna give a great deal of attention to Twilight. When Equestria is in peril, Celestia doesn't turn to her royal family. She turns to her most faithful student: Twilight Sparkle.

There is no evidence that Celestia is grooming any member of her family to succeed her and Luna. This may be because they are immortal, to be sure, or an heir simply hasn't been introduced. Or maybe it's because the heir she has chosen isn't a member of her royal family.

If Twilight comes before even the royal family in matters of life, death, and the fate of Equestria itself, what does that tell us about how Celestia regards Twilight?

Heir Apparent




Then there's the matter of Twilight's magical power. When she "failed" her entrance exam as a filly, Celestia remarked that she didn't think she had ever seen a unicorn with Twilight's raw abilities. Considering how old Celestia is, that's no small matter.

Twilight possesses the greatest native magical power Princess Celestia has ever seen, and is her personal protege. She has free access to nearly all of Canterlot. She communicates regularly with Celestia and may contact her at any time, at will, through Spike (her dragon assistant). She is the sister of Prince Shining Armor, and sister-in-law of Princess Cadance. She is the Wielder of the Element of Magic and the bearer of its crown. She is the Defender of Equestria, Vanquisher of Nightmare Moon, Discord and Chrysalis.

She is now tasked with defending Equestria for the fifth time by saving the Crystal Empire and preventing the spread of hatred and fear from it. And this is just another step toward "being ready."

If all these epic adventures are just training for Twilight, then what is she being trained for that could be even more epic? The most logical conclusion I see is that she is being trained to become Princess Twilight.

Though I cannot know what her role or realm may ultimately be, I think the signs suggest that Equestria is in the process of receiving its next royal princess. But I doubt that will happen anytime soon, because it's unlikely that Princess Twilight will be able to stay in Ponyville with her friends, or take part in the zany antics that come along with them.

Or maybe she can. Only the writers know for sure.