As our community has grown, and various tech turkeys have messed around with our interior coding, we've amassed all sorts of interesting features and buttons that offer a variety of convenience for the average user, on top of things the forum already possesses. Here's a simplistic list of some of the more helpful features you might have missed!

Little Known Features:

Feature 1: When viewing a topic, you can click on any badge of any user, and regardless what rank they are, a pop up window will display a list of every rank, its' name, and how many posts you need to attain that rank. Staff ranks are displayed as well, for reference.




Feature 2: When viewing a forum, you can hover your cursor over a topic, and a small button will appear next to where its' stats are listed. Click this button, and you will receive a pop up that displays a preview of the first post, the last post, and some interactive buttons. It will also display the first unread post, if you've yet to see the latest responses.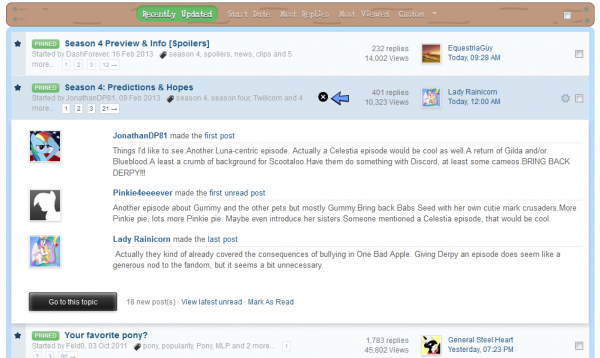 Feature 3: The forum's Calendar is used for all sorts of things, from birthdays to upcoming episode airings to actual Forum Events both serious and silly. While the staff ask members to kindly pass something by us before they post it as a 'Public'-set event on the Calendar, anyone is welcome to create 'Private'-set events on the calendar, as they're only viewable to the person who creates them. As a community, our calendar is your calendar when it comes to private events. You can thus use it for planning purposes of your own!




Feature 4: Have you ever logged in to a flood of status update notifications from your friends? Here's the quick solution! Click on any status update, and then look for the wooden bar above the text. Then, click on "Friends' Updates" to see a page full of all your friends' statuses, starting with the most recent.


Feature 5: Having problems connecting to MLP Forums, or any of the Poniverse sites? Try the Network Status page!

Commonly Overlooked/Underused Buttons:

Button 1: If you go to the bottom of the page you're on, you'll find this opaque arrow button. Click it, and you'll be brought back to the top of the page. Useful for long roleplays or lengthy image topics in the Forum Lounge


Button 2: When inside an individual thread, forum, or an individual's blog, you can use the follow button to receive notifications for when a new post, topic, entry or comment within a specific entry is posted. By clicking the small people icon next to the button, you'll receive a pop up of who else is currently following that forum/topic/blog/entry. Be sure to check out your notification settings in your preferences as well, as some of these automatic following notifications require your permission to work, prior to use.






The staff will be sure to add more to this page in the future as we think of more, or as more are brought to our attention. If you've found one we forgot, or think something should be added, feel free to PM Dawn Rider!
Edited by Love, 31 May 2015 - 10:33 AM.
Updating!