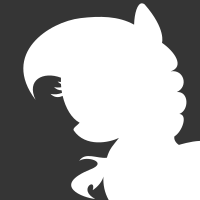 Content Count

124

Joined

Last visited
Profiles
Forums
Character Archive
Frequently Asked Questions and Helpful Hints
Equestrian Empire Character Archive
Pony Roleplay Characters
Calendar
Blogs
Store
Everything posted by Linux Distro
As long as they're not like, old enough to be my father. xD If they were like 45 but still really cool, I might still talk to them, but I would definitely view them differently.

6/10 Not my style, but okay I guess?

Banned because you got busy in a McDonald's bathroom

C.A.K.E. Coolest And Kutest Kakes Evar No, really xD think about Cookie and Cake Place? Sweet & Neat Treats? Sugarcube Corner

15287 Misanthrope by Brian Altano

just my soccer jersey ._. (futbol)

BANNED FOR ROBBING ME :'C

A grey soccer t-shirt and baggy jeans .-. I'm a simple guy xD

Banned because you question too much.

Only if it was more like a reincarnation xD Like, I'm reborn but as the same person as a pony. I don't want to be an orphan, basically XD

Wow! That's really great! Design and everything yours? Even if not that's still a really great job and you obviously have a special talent.

God is working in me guys...and if anyone out there is feeling empty, please don't be afraid to ask me what is empty. I have never felt so filled in my life. This is what makes Christianity real. The relationship that I have with the Creator of the universe.

Internet videos. Let's plays mostly. Music is productive to me, but if it wasn't that'd definitely be it. I spend at least 5 hours listening to music on a school day, at least 10 on a weekend. Not. Even. Kidding.

I would laugh like crazy, knowing that's exactly something I would do.