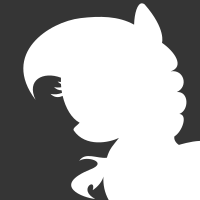 LupaNightshade
Blank Flanks
Content Count

3

Joined

Last visited
About LupaNightshade
Rank

Blank Flank

Birthday
Oh man I was way off on the thumbnail, thank you so much! I've been driving myself insane trying to figure it out!

I've been trying to remember that as well...between 2013 and 2015 if I remember correctly...I'm terribly sorry I can't remember more, I have been trying.

I spent 3 days looking for this song, I don't remember its name or the lyrics, only that it was about some group or order (can't remember...) that was basically a curfew patrol and would "help" ponies up at night. I remember its thumbnail was of 2 stallions looking sinister and it was drawn from the neck up on them...I'm sorry it isn't much but it has been a few years. Any help would be great. Thank you!