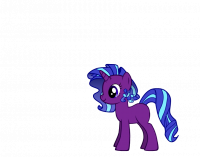 ---
Species: Unicorn Pony
Age: Mane 6 age
Gender: Female
Residence: Everfree Forest
Hometown: Ponyville
Occupation: Magic
Backstory:
She grew up in a mean family, and it turned her cold-hearted. She found out she can look like other ponies by taking part of them, say a piece of hair, and she loved being someone she wasn't. She never stopped doing it.
Personality:
She's kind of sarcastic, but talented. She is humble, yet mean.
Physical Description:
Blue, with a light blue/purple mane. She has a cutie mark of a crescent moon, with a violet four-pointed star with white spokes. Like Twilight's or Starlight's, but violet. She has indigo eyes.
Likes: Magic, alone time
Dislikes: Lots of people, crowds
Magic Spells: Transfiguration
Magic Spells: Illusion Magic
Friends: None Yet
Rivals: Ponyville Residents Now
Reality (Generation): Generation 4
1
---
Report Character