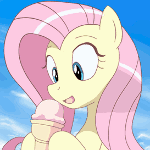 This has been a popular topic as of late. What started out as an innocent thread, of giving shout outs to some friends or other members. Has turned into the latest fiasco, on the forum. Honestly, there's no harm in that.Let people give shout outs to their fave members and friends.
The people that are over reacting and complaining about these threads are....well...over reacting and acting foolish. You don't like it? don't post. Posting and whining, just makes you look like you're begging for attention, which if it were me, would be rather embarrassing to do.
Yes, there's popularity everywhere you go....from the favourite co-worker to the favourite student or fave member of any certain group. It's childish to complain about this person or that person being popular, it won't get you anywhere. You shouldn't care who's popular or not, No matter what, I know I don't care about popularity. I'm here for ponies, and to maybe make a few friends. In High School I was one of most unpopular kids at school school, constantly picked on..etcetera, but I had my 2-3 close friends, and that's all I cared about. That's all you should care about too. as long as you have at least one good friend either IRL or online, you're doing pretty dang well.
I was a regular at local furmeets, random people who I had never even heard of or seen, knew me, if it weren't for their name badge with their fursona on it, I wouldn't of known their name without awkwardly asking them their name........I can tell you some of them wanted more than a friendly snuggle. It was scary. Not to mention i had very little time to spend with the people who I wanted to be there with, because people were CONSTANTLY bugging me, wanting to do this or play that...meanwhile I'd be busy with my REAL friends. It'd get me so frustrated that I just wanted to scream.at times, sometimes to the point where I'd get depressed and not really want to be there.
TL;DR: You shouldn't care about being popular or not, but as long as you have that one good friend, you're doing well for yourself.
I suck at ending these kinda blogs.....so...
3