Three Reasons I Love the Original Mass Effect
Entry posted by Yamato ·
656 views
Recently, I found my old copy of Mass Effect and embarked upon my sixth playthrough with my original character, thus making it one of only three games that I have ever re-played more than five times (the other two being Mercenaries and Seek and Destroy). This got me to thinking, "Why the hell do I enjoy this game so much?" Here's my top three reasons.
1. The M35 Mako
The M35 Mako is arguably one of the most badass fictional vehicles ever for the sole reason that it simply cannot be stopped. The only terrain a Mako can't traverse is a 90º cliff face or upside-down. On top of that, its 155 mm mass accelerator cannon makes a very nice conversation piece when it isn't blowing Geth into oblivion. But the magic of the Mako isn't simply in its qualifications, it also resides in the abilities it grants you. It allows you to explore planets, fight baddies who would normally kick your ass into next Tuesday, and just generally muck about, thereby adding a smattering of carefree attitude to an otherwise serious game.
2. The Weapons
There really wasn't that much weapon variety in this game as far as styling goes, only two body types per weapon class and only a handful of colors. I'll admit that the guns in this game are grossly out-styled by the guns in ME2 and ME3. However, two things that make me love the weapons in the original Mass Effect. The first is not just that you can mod the ever-loving shit out of them, but also the sheer ridiculousness that said mods spawn. Put two Scram Rails and explosive rounds on a shotgun and you've got yourself a one-shot wonder capable of taking down all but the toughest of enemies with a single spread. Two Frictionless Materials mods on an assault rifle gives you the capability to unleash an endless, unholy maelstrom of bullets upon your enemies, which is a lovely segue into the second thing: infinite ammunition. As far as ammunition went, the only thing this game asked was that you occasionally pause your river of bullets to allow your gun to cool down. Even then you could still tell the game to go fuck itself with the aforementioned mods. All in all, a wonderful weapons system. Shame they broke it in ME2...
3.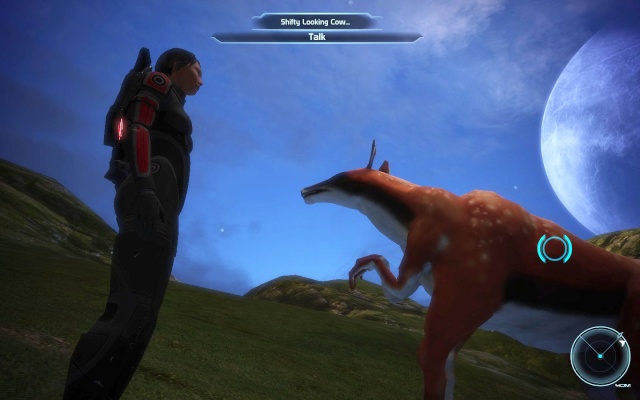 You better watch him, he's a shifty bastard...
One of my favorite easter eggs ever. It's simply a space cow that advances towards you and steals your money, but only when your back is turned. Located way the hell out in the absolute middle of nowhere, the only thing distinguishing this klepto-cow from any other space cow is that handy nameplate on your HUD. There's truly no point to its existence, but it makes me laugh every time.
Anyway, that's all I got. I may or may not do one of these on the other two games I mentioned. Depends on how bored I get, I suppose.