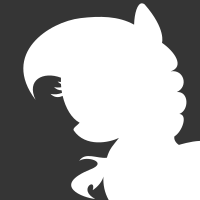 Content Count

1,180

Joined

Last visited
Profiles
Forums
Character Archive
Frequently Asked Questions and Helpful Hints
Equestrian Empire Character Archive
Pony Roleplay Characters
Calendar
Blogs
Store
Everything posted by Ron Jeremy
Weird proportions, hard to tell what it is. 5/10

Well, like I said, they're a casual and they don't have a juggernaut PC. So it's not really pickiness. D:

I'm pretty much looking for games that don't take a uber-powerful computer to run, like Cave Story+ and Offspring Fling! and whatnot. That and the person in question is kinda a casual. I should clarify in the OP.

Dunno if you're bein' serious or not. The person in question doesn't like FPSes anyway.

Those aren't the kind of games the person in question likes.

lik omg dat game is so yestrday

So, recently, a person I know has gotten started on Steam, but the problem is, they've only got a single game. I want to be nice and change that. I know people frequently end up with spare keys from indie bundles like the Humble Indie Bundle, because, well, they already have one or two of the games that come on them. So, I'm willing to trade stuff I have for any spare keys (except for Nightsky). That stuff can be various TF2 items like Refined and hats, Steam trading cards, and other stuff I might have laying around my inventory. If you've got a spare key gathering dust, I'll trade stuff for i

Honestly, this is kinda stretching it. Darkness-causing villains, groups of six heroes, power-granting treasures, jealousy as a motive are all extremely common in fiction. An interesting observation, but almost certainly coincidental. It's like when people swear up and down that songs match with certain movies because things happen to line up. Kind of related...

should lit a FATTIE on the MAGMARS bro

I NO RITE HESE SUCH A DUMAS ID KIL HIM IF I HAD DA CHANS

I'm gonna be the nerd who says that the first cactus is a Golden Barrel Cactus, and the second is a Saguaro.

UR RELLY FUNEY N STUF U NO DAT

I NO RITE B/C DONT PPL HAV DA RITE TOO SPAM LOL

BUT KIDNAPIN IS SO FUN DAT GUY MUST BE A RELE DUMAS LOL ERIO IS DAT LIK ANEME VERSIN OF EZZIO DA GUY FROM ASASINS CREDE Though, realtalk here, no more lolspam from me.

I GOT BANED FROM POSTIN STATSU UPDAT STUF N STUF LIK TAHT U NO WAT I MENE BUT ANWYAS U NO WAT IS ANOYIN IS WEN PPL SPAM DA WORD LOL ON DA STATIS UPDATS B/C I TINK ITS RELLY DUM ANY1 HO WUD DO DAT IS A DUMAS LIK CHANSAW BUFANT HES A DUMAS B/C HE SPAMED LOL N SIHT BUT I WUD NEVR DO IT I MENE U NO WATS DA FUNEY TIHNG ABOTU SPAMIN LOL IT JUTS ANOYS PPL N STUF LIK TAHT U NO WAT I MENE N STUF LIK TAHT U NO LOL I MENE CAN U IMAGIN IF HE MAD A BOLG ENTYR SAYIN HE HATDE IT TAHT WUD BE RELLY DUMM LOL N STUF LIK TAHT U NO WAT I MENE

Awww, the butthurt thread got locked.

BURN BURN BURN TO THE GROUND BURN BURN BURN BURN BURNTOTHEGROUNDBURNBURNBURN

10/10 would walk inside a house wounded.