Turbo Review: Nintendo Badge Arcade (3DS)
Entry posted by Kyoshi ·
965 views

Want just a quick summary? Head to the Final Verdict for that and my rating!
Publisher/Developer: Nintendo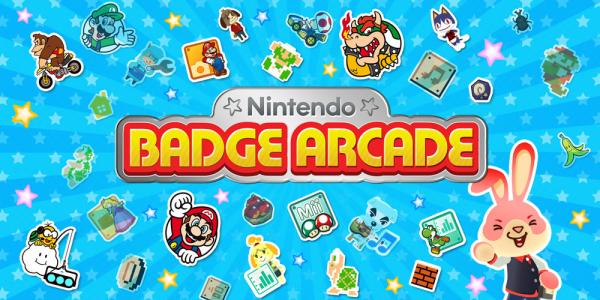 2015 was an odd year for Nintendo. While we received greatness like Bayonetta 2, Nintendo decided to experiment with much greedier concepts. One of these was Amiibo Festival. The other, was Nintendo Badge Arcade. An awesome looking concept on paper that is foiled by greed.
Nintendo badge arcade is a simple premise that sounds like a winner. You play on various claw machines to get numerous types of badges from several games and these badges can be used to decorate your home screen. That sounds cool! While doing this, you have a pink rabbit that is your assistant as you do this. He likes to make all sorts of puns and tell you about stuff going on in Nintendo. Like new games and even past games. Sounds good, right?
Quickly, you will see how this concept falls apart. Early on, you are given some free plays to maybe get some badges, but the first problem arises: The control. While the control is simple, the claw machine physics feel incredibly biased against the player, making for a lot of cheap moments when the claw doesn't want to properly grip onto a badge or just randomly stops because it came in contact with the wall slightly. On top of that, the badges love to slip right out of the claw and it makes for a very luck oriented experience. While this might actually be very accurate to real claw machines, this makes for a very frustrating and pointless gameplay experience.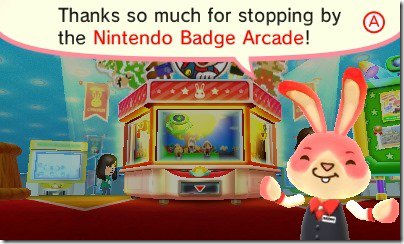 On top of this, the plays cost $1 for 5 of them. Essentially 20 cents a play. While that may not seem too bad on the surface, the game here is mostly luck and there are many plays where you may get nothing at all. Thus, this is a case where you are paying for potentially nothing at all and that is terrible for a video game. The game is free to download, but since you rarely will get free plays, one a day if you are lucky, the game essentially costs money to do anything. All for simple badges that do look nice, but are not worth such an investment, especially at the chance of not getting them at all. Along with this, there are also many machines that have badges in places where it will take more than one play to get them, mostly for popular characters that Nintendo knows that people want. Clever, but also, a dick move.
Then, there is the rabbit. This pink assistant at first seems like a friendly little guy to help you learn the game and give you some tips. While this seems true at first, it quickly becomes apparent that this characters exists for one purpose: To trick the kids. His personality is clearly fine tuned to make children get excited about these badges and talk them into spending money off of their parent's credit card. Every single time you use up your free plays, which happens very, very often, he will ask you if you want to switch to 'paid play' and of course, the selection marker is on 'Yes' by default. This tactic, while blatantly transparent, feels rather shameless and something I never quite expected from Nintendo.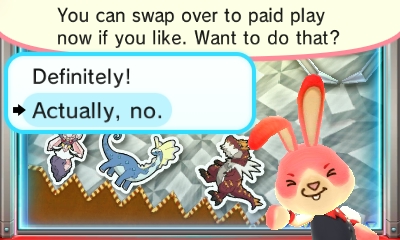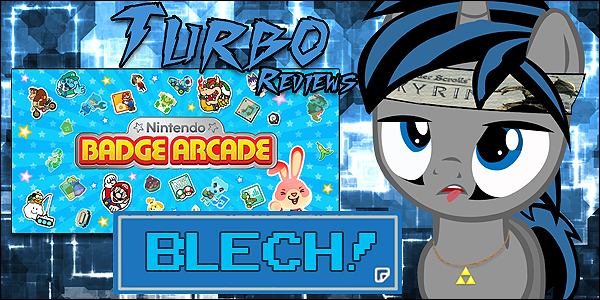 Nintendo Badge Arcade is a concept that could have been delightful, if some forethought was actually put into it. The overall presentation and collecting the badges over time feels nice, and the badges themselves don't look half bad. However, the constant asking for money and horrendous 'free-to-play' execution leaves a bitter taste and the overly enthusiastic bunny doesn't help, especially when you are being asked to spend money on something so shallow. The biased physics and luck based gameplay makes this feel like a slap to the face from Nintendo. Nintendo Badge Arcade is a great concept, but a terrible game.
+Building a collection feels nice
-Almost no gameplay unless you spend money
-Crane physics are immensely biased against the player
-Overly enthusiastic bunny assistant is there to get you to spend your money
-The plays are over-priced
-Hardly anything to do, other than spending money
And there you have it. One of the worst 3DS games of last year and of all time. Thanks Nintendo, I guess.
4