For The Transit Fans: Intermission: Confessions of an Uber Driver
---
Uber and Lyft Trade Dress

I've driven for Uber in the past and recently decided to pick it back up again. So i thought it would be interesting to share my experience and help anyone considering doing it.
Uber Technologies Ford Fusion Autonomous Experimental in Pittsburgh

Disclaimer: Being an Uber Driver differs heavily depending on your affiliate city and this determines a wide variety of experiences which are unique and not universal to each city. Bigger cities will have higher demand and more complex driving environments, Smaller cities may not have as much demand and fares may be lower. For reference i am an affiliated Uber Partner in the Washington DC Area. Uber DC covers Washington DC, Prince George's and Mongtomery Counties in Maryland, Fairfax and Arlington Counties in Virginia and in some cases beyond.

Getting Started: Uber Drivers (Referred to as "Partners") need several things to begin working for Uber. The first of which is a smartphone. Uber Partners receive requests for rides via the Uber Partner App on their phone. Uber Partners must also have an approved vehicle for the Uber Platform. Uber as well as all Transportation Network Companies (TNC's) have a list of vehicles they will permit to use their platform to give rides for money. This also varies depending on city. In DC the requirement is a vehicle 2008 or newer with 4 full doors and trunk. Two door vehicles or vehicles with half doors (Mazda RX8, Ford F-150 Extended Cab) are not allowed. This vehicle must also have Insurance and Valid Registration. The level of insurance required will be discussed later. Uber has recently partnered with several banks, Auto Manufacturers and Cell Phone Carriers to help people work for Uber who may not have a car or a phone. You should also get a mount to allow you to operate your phone without holding it. Many suction cup mounts stick to the windshield or dashboard and cost as little as $10.
Step 1: Personal Details: Uber Partners after they apply to work as an Uber Partner are subjected to a two week long background screening which runs your name and social security number across a database which checks for criminal offenses as well as traffic offenses which will determine eligibility. Uber pardons petty offenses but completely bans those convicted of Sexual Violence crimes, Assault or Dangerous Driving charges. Once this is completed, Uber will contact you via email and text message confirming you are approved. The next step is to complete Tax Information (very important will be covered later) and provide Uber with your bank account information. Your earnings during your time with Uber will be deposited into your account. After all of this is done, you must take a selfie and it will be placed on your Uber Partner account. This is so people know you are their driver and dont get in the wrong car by mistake. Next all you need to do is download the Uber Partner app and you will be all set.
Uber Technologies Toyota Prius Three, Cadillac XTS and Chevrolet Suburban

Step 2: Vehicle Details: Once your car is approved for use on the Uber System you will be prompted to watch an Uber Intro video which explains how your car should appear when you go "online" (able to accept trip requests). Your car should be clean inside and out and mechanically safe. When you sign on as an Uber Partner you agree to keep your car maintained and clean when you are online. The type of vehicle you own, Lease or Rent will determine the type of Uber Pickups you will be given. Uber has several tiers of service which allow for different experiences.
UberX: People who posses a standard 4 door sedan; Ford Focus, Toyota Corolla, Chevrolet Cruze etc will be given UberX trips. These trips are basic fare and are given in basic sedans. As most sedans can seat 3 passengers 4 if the middle rear passenger is small enough that is the limit for UberX requests.
UberXL: If you own a Crossover, Suv or Minivan you are eligible for both UberX and UberXL requests. Vehicles on UberXL are Toyota Sienna, Chevrolet Suburban, Nissan Pathfinder, Honda Pilot etc. XL trips are given with larger vehicles and thus can carry more people. In some cases up to 8 people. However for this added capacity fare is higher.
UberSelect: Available in only a few cities UberSelect is a step above UberX in that the vehicles are near luxury or are of a higher trim level and Full Size Sedans such as the Nissan Maxima, Audi A3, Honda Accord, Chevrolet Malibu etc. Fares are higher for UberSelect than UberX
UberBLACK: Dubbed "The Original Uber" UberBlack sends a high end luxury vehicle with a licensed chauffeur to your location. Vehicles on this platform are similar to Mercedes Benz S500/550, BMW 5 or 7 Series, Audi A8, Cadillac Escalade etc. These vehicles demand the highest Uber fares and are used by professionals who dont want to use Taxicabs or People going on a special occasion. Drivers on UberBLACK must have a Chauffeur's License.
UberTAXI: To compromise with taking business away from taxi drivers, Cab drivers who own or lease their taxicabs are allowed to use the Uber Platform to accept trip requests. The cab must be 2010 or newer and be a licensed taxicab in the city of operation. The driver must also posses a hack license. The rider pays the standard Taxi fare with Uber taking a cut for use of the platform.
The type of vehicle you have will determine which trips will appear while you are online. Uber has introduced new partnerships to help get more drivers on the road.

Uber Xchange Leasing: Uber teamed up with Automotive Dealers and Manufacturers to help people who do not have a car or one that is Uber Approved. Nissan, Chevrolet, Ford, Toyota and Hyundai have all approved models for quick approved leasing agreements. Uber will allow you to lease a car from a list of Xchange approved vehicles which you can use to drive for Uber. In "Xchange" you pay a $250 fee to start and a weekly fee which is deducted from your Uber earnings each pay period. The amount varies depending on the car you choose. Larger models cost more than smaller ones but can help maximize profit. The list will look something like this:
Nissan Approved: Versa ($125/week) Sentra ($150/week) Altima ($250/week)
Toyota Approved: Yaris, Corolla, Camry
Ford Approved: Fiesta, Focus, Fusion
Chevrolet Approved: Sonic, Cruze, Malibu
Hyundai Approved: Accent, Elantra, Sonata
The Uber Partner does not need a credit check and can return the car after 30 days (after giving a 2 week notice) with no charge. Alternatively, at the end of the lease the Uber Partner is also given the option of continuing to make payments and buy the car.
Enterprise Car Rental: Uber and Enterprise reached a deal which allows people who do not want to get into a lease the option to rent a car for similar rates for use with Uber.
Insurance: All cars on the road must be insured but with the rise of companies like Uber and Lyft a new type of insurance has been created to better cover drivers of both platforms. Rideshare insurance is a higher level of car insurance which protects the passengers you carry for profit. Many states are now passing laws requiring the use of Rideshare insurance. In some circumstances if you get into an accident while online your insurance company will drop you because you were not using the proper insurance coverage.
Registration: All cars on the road must carry license plates. But with new companies like Uber and Lyft new policies are being forced onto the TNC's to make it more difficult to operate. In some jurisdictions such as New York City, Uber drivers not only have to posses commercial rideshare insurance they must also have commercial license plates, similar to the ones taxi cabs and limos carry. These license plates are more expensive but give special permissions and access to areas such as airports.
Cadillac XTS on New York Taxi and Limousine Commission license plates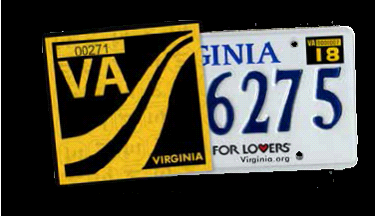 In the Washington DC Area Uber Drivers are required by the Commonwealth of Virginia to carry "TNC Registration" because Virginia cannot force drivers from Maryland and DC to put a sticker on their license plate they are issued a large Black and Yellow Sticker which they must place on their rear window. Drivers in Virginia who drive for Uber or Lyft are given black and yellow registration stickers for their Virginia License Plates. DC and Maryland Uber drivers need this to get trip requests in Virginia and is unavoidable as many of the DC area Airports are in Virginia.

Placards: When Driving on the Uber Platform to comply with TNC laws Uber Partners have to display a Trade Dress. The U Sign must be displayed when driving and it also helps the riders identify your vehicle. Uber will send you one of these in the mail. But if you want to drive before it arrives you can print one out as long as its of the same size and tape it into your window.
Step 3: Going Online!: Once you've manged to bypass all of the legal mumbo jumbo that effects TNC companies like Uber you are ready to make money. In order to begin accepting trips you must first "Go Online". This now makes you visible to all of the trip requests "Pinging" in your area. Once you go online, you are technically working, your car should be clean, air conditioning on, and you should be the only person in the car.

Once You Go Online and a trip request appears it will look like this. The Trip will show the pin location of the rider you are to pick up, how long it will take to arrive at that location as well as the pickup address. The bottom star rating is the rider rating. Riders with poor ratings have been rated poor by other drivers for various reasons. (Rider is late, rider is rude and leaves trash in your car, etc) as well as the type of trip they requested. In this case it's an Uber X trip. The phone will begin to beep loudly so you notice a trip request. To accept a trip the driver taps the screen and the app will bring up another screen with a Google Maps GPS Navigation set to the destination of the request. All that's needed next is to drive to the rider's location. Then after picking up the rider the GPS will direct you to their drop off location. After dropping off your rider, finish the trip by sliding the button. You then wait for another one. If its busy you should drive toward the areas of your GPS that are colored Orange Red or Yellow as these areas are "surging". Meaning these areas of your city have higher demand and Uber applies an additional fee to encourage more drivers to go toward these areas. Rinse and Repeat until you've made as much money as you like or you no longer feel like driving and then go offline to stop receiving trip requests.
Step 4: Collect Your Earnings: Uber Drivers are Paid every Wednesday and time for the week goes in the previous Sunday. A new feature allows you to cash your money out every day at a charge of only .50 cents. Tax information at the end of the year is very important. Uber Partners are NOT EMPLOYEES of Uber Technologies/Raiser LLC This means that when working for Uber you are considered an Independent Contractor and earnings you receive do not have taxes taken out. You must save money at for the next tax season should you owe. However this does also mean that you can claim certain things on your taxes as business expenses such as your car and money spent on fuel. The IRS has its own formula for calculating mileage as business use so keeping track of that is also helpful. Uber Partners have access to a special spreadsheet at the end of each week they can print out to keep for their records. I personally write down all my Uber trips each day in a notebook and staple any fuel receipts to each day.
Be Prepared For "The Public": Being a Bus Driver I interact with the public on a daily basis and im well aware of how people can be. People who are not used to dealing with random strangers everyday should be prepared for this. People will sneeze and cough in your car, people will want to ride with certain music on or no music at all. People will be late to their pickup point. Uber Drivers and Riders are rated on a system done by both. If you are left a 3 star rating it could effect your overall rating and if it drops too low consistently you could be booted from the Uber platform. Riders who vomit in cars, or damage cars while riding can be charged an Extra Fee for damages and given a low rating and also be banned from Requesting Uber rides. Try to remain calm and keep conversation with your riders to a minimum or on Neutral topics such as the Weather, Sports and TV. Avoid talking about Religion or Politics obviously. Driving for Uber XL and UberBlack you will be sometimes asked to open the door for passengers and assist with putting things in the trunk.
Be Prepared For Cab Drivers: The TNC Companies like Uber, Lyft, Split and Via are meeting market demand for on call car service which was lacking with local cab companies. Taxi Cabs are often driven by individuals who do not provide good customer service. Charge infrequent higher fares in outdated old cars. Cab Drivers often target TNC drivers and are resentful for the TNC's taking away some of their income. Here In DC, Taxi Drivers are often of Ethiopian, Egyptian or Middle Eastern Descent and do not speak English. The Taxi Commission was corrupt giving Hack Licenses to anyone of those backgrounds regardless to if they could provide good customer service or knew the streets of the city. This along with the fact many drivers would lie to passengers about the fare and over charge tourists. The TNC companies allow for passengers to get a fare price in a clean car with a friendly driver. Ever since Uber launched in DC the Taxi Commission had to completely clean house and have new management. All Taxi Drivers in DC are required to take a customer service class now, largely due to the dominance of Uber.
Be Prepared For Your City: Learning your city will help you tremendously when you are driving. It means you will know where the shortcuts are, which streets are the most crowded etc. You should also know the events of your city. Is Rihanna Hosting a Concert Downtown? Traffic will be crazy once its over. Is the Basketball/Football/Baseball/Hockey/Soccer Game Over? All of the Bars will be full of drunk people who cant drive home and will request a ride.
Be Prepared For Regulations: From License Plates, To Placards and on, TNC companies are being more and more regulated like Taxi Companies which are heavily regulated enterprises. If you plan to drive for one be aware of changing regulations. Uber will often announce new regulations via email to all driver partners. Uber also usually maintains an office in each city where it operates so you can get up to date information. It also means that sometimes work might be canceled until the government passes a new regulation or sometimes bans TNC's all together as was the case in Austin, Texas.
Lyft Driver in Austin, Texas with his "Glowstache" Lyft Drivers who complete 100 trips are given a pink light up mustache which mounts to the dashboard, better helping riders find you at night. Austin Lyft Drivers brought their Glowstaches to protest the council vote to cancel TNCs in Austin. Uber Drivers were present as well.

Reflections: So far ive completed 70 Trips on the Uber Platform and im considering driving for Lyft as well. (Lyft has slightly different requirements). A New TNC is launching in DC called Via which is already under way in NYC and Chicago. Via acts more like a car pooling service. After 70 Trips and many ours in traffic i would strongly urge anyone with the means to take on Uber as a side gig. Its decent money for very little work. You will find out more about your city then you ever knew before. You will find faster ways to get to places you've always gone to before. I have had my share of rude passengers many of them with a false sense of entitlement but all in all im used to it. If you have a thick skin and a fair amount of patience you would do well as an Uber Partner. If you are interested in getting started there are a few YouTubers who are TNC drivers who Vlog about how to get started and what its like.
2