Here we go with the second episode of Season 5, featuring the first fight between immortal wandering Ronin Jack and the team of warriors dedicated literally from birth to slaying him, the Daughters of Aku. Things are going to get interesting...
What happens
The first part of this episode allows us to catch up with an old friend: the Shapeshifting Master of Darkness, the Emperor of Evil, the Shogun of Sorrow… the one, the only, AKU! After waking up, while dealing with dirt-tracking delegations and socializing with scheming scientists, Aku tries to brush aside any mention of the Samurai, saying he no longer cares whether Jack is still running around, and sinks back down out of sight.
In actuality, though, he is very much in despair and depression over the issue. He has a conversation with a psychiatrist version of himself, lamenting the fact that his plan of destroying all the time portals and letting old age defeat Jack for him has backfired so horribly, since Jack no longer ages.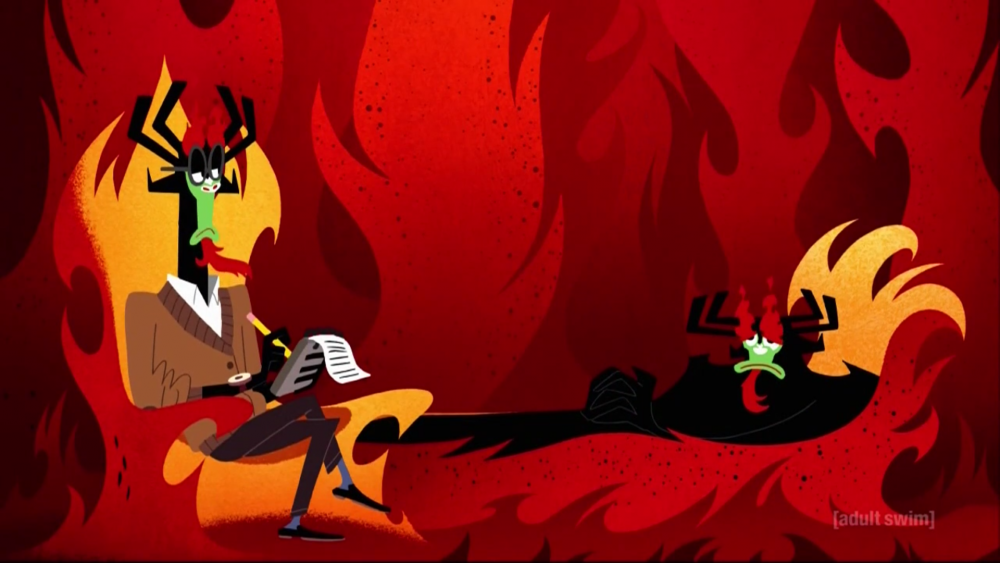 Special Offer: Two LARGE HAMS for the price of one!
He wonders idly if there is not someone out there who will take care of the whole having-an-immortal-mortal-enemy-thorn-in-his-side issue for him.
Cut to Jack, as he is ambushed by the Daughters, who wreck his bike and attack him with such speed and ferocity that he can barely even track their movements as they hit from all sides. In the melee, he loses his Tuning Fork Sword to one of his attackers. Pressed to his limit, he manages to use a belt of grenades as a smokescreen and hides under a metal dome (wreckage of a giant robot Jack easily defeated earlier in the episode) as it begins to rain. And enter HallicuJack – a version similar in appearance to Jack as he had been in previous seasons, his hair still neatly tied up, clean shaven and dressed in his signature robe.
Jack and HalluciJack have an argument as HalluciJack claims that these new enemies are too strong for him, and he should just give up. Jack responds that his opponents are only nuts and bolts; he has been in seemingly hopeless situations before, but then finds a way to survive. HalluciJack counters that that was when he still had his sword, and further states that he just wants this to end and that their ancestors are waiting for him to join them. Jack sees the Apparition again, but behind it, he sees the entrance to a temple. Ignoring HalluciJack's certainty that he'll be killed before he reaches it, Jack sprints for the entrance and its promise of safety, the Daughters soon following.
Jack goes to ground in the darkness, but rather than searching for the needle in this temple haystack, the Daughters instead hide themselves to lure him out. After a period of stillness, Jack attempts to sneak out again, but can't avoid encounters with the Daughters. Eventually, he runs into a giant cavern filled with sarcophagi and the remains of an unknown Warrior King and his armies.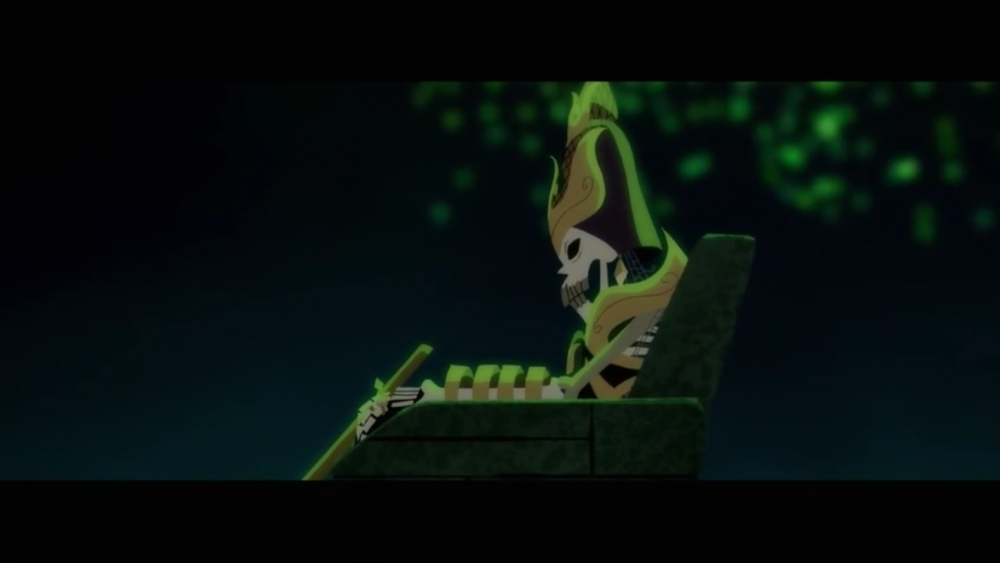 He keeps them up his sleevies…
Jack hides in one of the sarcophagi, and the Daughters regroup in order to stalk him. After a tense game of hide and seek, Jack is discovered and the fight resumes. Finally, the last of Jack's armour is destroyed, leaving him clad only in a loincloth. He manages to gain some distance and runs desperately through the corridors seeking escape. One of the Daughters (the one who took his Tuning Fork Sword) cuts him off, but with only a single opponent to face, Jack manages to take it back and in one swift counter-attack, slits her throat. Her mask falls apart, revealing the face beneath. Jack is horrified to realize that what he thought was just another machine was really a human being. He also discovers that she managed to stab him with her own dagger in the last moments of the fight. Bleeding heavily, Jack drags himself towards the end of the corridor, leaving a long smear of his own blood on the stone. He uses the Tuning Fork Sword on the walls of the corridor, and falls into a fast-flowing river, just as the temple explodes and partially collapses. Jack floats face down in the water, bleeding aaaand… WATCH OUT!
Thoughts on the Episode
Savvy readers may note that the summary makes no mention of the white wolf fighting the tigers. I left it out because one – it interrupts the flow of the summary unnecessarily; and letter number B – I feel it didn't add anything to the episode itself. I know that the wolf's story parallels Jack's own struggle against the Daughters, and that the wolf himself reappears in the following episode, but symbolism for its own sake, particularly blatant symbolism, can be distracting and actually detract from a story. And I think it kind of did here. Also, we know Jack will survive, so showing the wolf apparently dead after the battle with the tigers doesn't even work as misdirection. Still, these are relatively minor gripes. Back to the episode itself.
Yay! Aku's back, too! And we get to see his take on the whole situation, which is "yup, this sucks". The psychiatrist version of Aku is pretty funny, seemingly being more eloquent than Aku himself, even though it doesn't make that much sense, considering it IS Aku himself. While the original voice actor of Aku, Mako Iwamatsu, unfortunately is no longer with us, the new guy, Greg Baldwin (thanks, IMDB!) does a pretty good version… not perfect, but then, Mako was one of a kind. I had kind of hoped that Aku would remain unseen for a while longer, to make his eventual return to the small screen more impactful, but since we already heard him on the phone, I guess him being The Ghost in this season wouldn't make that much sense. Greg Baldwin has bills to pay, too, you know. This scene does serve to give a bit of light humour amid the rather dark tone of the rest of the episode, so there's that, I guess.
This episode being mostly a running battle with Jack against the Daughters, there isn't much to talk about apart from the HalluciJack scene (a rather darker mirror of the earlier Aku segment) and the hide-and-seek scene, so let's go over those.
The fact that the Apparition appears when the HalluciJack part of Jack mentions suicide firms my opinion that the Apparition is the representation of Jack's desire to end it all, which he struggles against. There's a bit of libido / destrudo dualism there – while the word libido has been co-opted to mean "sex drive" in common parlance, it's probably more accurately described as the desire for life, as opposed to the desire for death – and making an external representation to portray an internal struggle is pretty common in fiction. Stinker HalluciJack is going to be a fixture from here on out, though, so we'll have a chance to discuss him again further down the line.
The scene with the cavern and the Daughters hunting Jack down is simply wonderful, and perhaps the best part of this episode – the music ratchets up the tension beautifully (the music is almost too beautiful) and Jack's terror is highlighted here, but I do have one or two questions. First, I didn't quite understand the firefly bit. Does that represent Jack's fading hope the closer the Daughters come, or did the firefly somehow lead them to him – which doesn't make sense since it was inside with Jack. Secondly, exactly how do the Daughters all gravitate to the correct sarcophagus, if the firefly was inside and didn't lead them there? Any explanation would be welcome, since I don't quite understand that part.
The final fight with the single Daughter provides us with the non-robotic reveal, and reaffirms Jack's superiority – while outclassed by the Daughters as a whole in this episode, one-on-one he is still the better warrior. In fact, the final stab the Daughter gets in probably would have been avoidable had Jack not been in a blind panic and already at the tail end of his strength from the previous fighting. This scene also cements the tone shift by actually presenting real, red, non-oil blood being spilled for the first time – on both sides. We've seen Jack get scratches now and then before, but actual messy, bleeding abdominal stab wounds is a first here. It's done so suddenly that the blood is legitimately shocking on first viewing. Well, unless you've been watching the previews or adverts, it would be. It's fortunate for Jack that the sister he faced had his TFS: convenient coincidence is convenient.
Another honourable mention for the scenes fought in darkness, lit up only when steel strikes sparks. It's simply beautiful to watch and gives an idea of just how skilled the fighters all are… just not quite skilled enough on the Daughters' side, as the above paragraph demonstrates.
Overall, despite some question marks, the second episode of Season 5 is pretty solid. The Daughters are set up as a legitimate threat to Jack's life, his continual struggle with pushing himself on despite having little hope and running more on pure stubbornness to survive than any kind of end goal helps us identify with and root for our favourite samurai, and there is even a little comic relief from everyone's favourite Architect of Annihilation Aku to keep the mood from getting too bleak.
And that was episode, still bringing the thrills. I'll be back to give my thoughts on the next episode real soon. Complain or compliment below, you know the drill.
Stay sunny side up, y'all, and remember to WATCH OUT!