I'm getting a sinking feeling that the theme naming of these entries is going to become harder to pull off... and speaking of sinking feelings, let's check in with Jack and Ashi!
What happens
Jack falls from the sky, hitting a few branches on the way down that slow his descent enough for the snow to cushion his impact and save his life. When he regains consciousness, he leaps up in panic, swinging a spear around in case of attack (STOP! Hammerspace! ...Oh, God, I'm old…) The only creatures in sight are some crows, and Jack calms down a bit. He notices a blood trail, and follows it to find Ashi, lying as if dead. The crows begin to caw at him, Jack hearing it as a chorus accusing him of murder; in defiance, he shouts back that it was the Daughters' choices that lead to their death, ending the latest hallucination… but not the last one we'll see in this episode.
When he gets close to Ashi's "body", she leaps up and attacks him with her sausage-onna-bun sickle-onna-chain (actually, the former is generally considered to be more lethal than the latter). However, on her own she is quickly defeated and left dangling wrapped up in her own chain again. She verbally lays into Jack once more, but when he just stands there watching her swing, she eventually runs down. Jack tells her she is confused about the respective locations of Jack and Aku on the spectrum of morality, and muses that he has met machines programmed with Aku's lies and hate, but never a human. Ashi is having none of it, however, having been warned by the High Priestess that Jack is deceptive. Tricksy and false, precious, yesss.
Their "conversation" is interrupted by a colossal worm devouring them and half the nearby landscape. Even while falling towards the monster's maw, Ashi is still trying to cut down Jack, which pretty much just annoys him at this point. She knocks herself out on some of the floating debris, and Jack grabs her as they enter the body of the creature, Jack slowing their descent with his feet.
After setting her down, Jack rests for a bit, only to hear joyous laughter from an awoken Ashi, who praises Aku and rejoices that Jack has finally been defeated: they've both been devoured and are in her opinion already dead. Jack replies that he has been inside giant beasts before and escaped. A group of large bugs approaches, and Jack uses the chains still wrapped around Ashi to make her into a backpack, to her annoyance.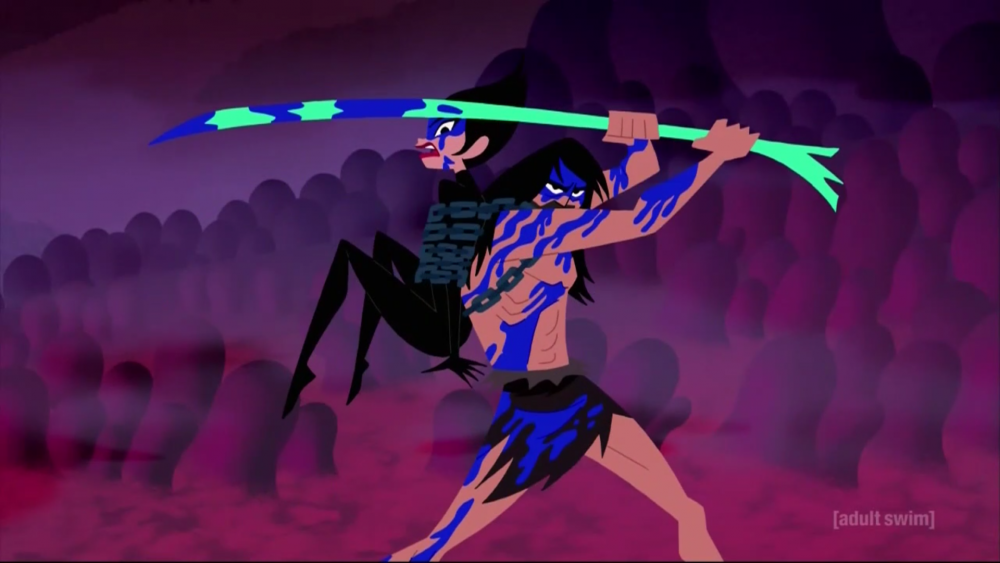 Presenting: AshiUshiro! Stylish and practical! Get yours today at your local GIANT WORM!
She still tries to sabotage Jack, even as he fights, but a glancing blow from an enemy knocks her unconscious. Jack defeats the monsters and escapes further into the kaiju. During a rest period, Jack hallucinates some more (I'm getting tired of typing that word at this point), having a conversation with a British-sounding puffball and then HalluciJack. HJ scoffs at him for "getting involved" again with Ashi, and reckons that he should just give over trying to convince her to join his side and simply leave her to her own devices. Jack notes that Ashi is resisting him not because she is inherently evil, but because she's been fed lies her whole life; she's essentially an innocent victim. He also blames himself for the situation, since he never found a way to defeat Aku and return to his own time. While Ashi watches Jack argue with himself, another kind of bug monster abducts her, and Jack is forced to rescue her. Then back on his back she goes as the journey continues.
Various scenes of odd Parasites Of Unusual Size ensue, until Jack and Ashi find themselves close to an exit from the monster (That's good!)… pity it's located over a pit of acid. (That's bad.) However, various flying creatures are in the same area. (That's good!) But so is a giant predatory flying fish. (That's bad.) Barely avoiding the predator, Jack and Ashi are shot out of the exit, escaping the kaiju and landing in the sea. Luckily, there is an island nearby. Jack drags Ashi to it and then sits down to rest and recover. Ashi, seeing him with his guard down and his back turned, manages to find her sickle and creeps towards him. However, a ladybug suddenly flies past. Ashi remembers the High Priestess crushing one that found its way in the Cult's cave, and notes that this one lands on Jack's hand. He simply smiles and lets it fly away. Comparing his behaviour with what she has been taught he is like, she finds she is unable to kill him. She drops the weapon and hugs her knees while she contemplates and… SHE DOUBTS!
Thoughts on the Episode
I laugh at Ashi and Jack's first conversation. "You are very troubled…and very confused," indeed. It's a minor laugh in a rather dark season. In retrospect, the whole getting swallowed thing was ultimately fortunate for Jack. Actions speak louder than words, and Jack's continual heroism in keeping Ashi alive really hits home for her in the end. Not to mention the ladybug scene. Throughout Ashi's appearances, there's been one aspect of her nature that is highlighted: her curiosity. Curiosity is the bleach to indoctrination's mould. A curious person asks questions and their eyes (and minds) are open, so they are the hardest to pull the wool over. Once she saw that Jack's actions gave the lie to the picture of him she had been painted, she found it impossible to hold to her belief in his evilocity (Yes, I know that's not a real word, just go with it). Of course, while she can't simply kill him out of hand anymore, she still doesn't fully trust him. She's simply considering the new information she now has about him.
While Jack is quite right about her being a victim of a slanted worldview and therefore blameless, he doesn't seem to have extended that logic to the Daughters he has already killed. Or perhaps he has, and that guilt is just hidden. Will we see Jack having hallu – grrr… visions of the Daughters in a later episode? Perhaps he reasons that despite their innocence, at the time he had the choice of him or them, and can lay the blame for their deaths at the feet of whoever raised them to hate him. Questions, questions.
Obligatory HalluciJack cameo is obligatory. Quite strange how he notes that Ashi has disappeared before Jack notices. Is HJ really a product of Jack's mental strain, or could it be somehow independent? A ghost Aku cursed him with that tries its best to get him to just "end it all"? I'm probably overthinking things.
Jack inside a giant monster: been there, done that, got the furry-back armour. Still, Ashi is now at least entertaining the belief that Jack isn't the evil she was told he was, so the interlude didn't happen without reason. We are moving right along to the reappearance of everyone's favourite Celtic warrior, so I'll see you in the next episode, and don't forget to stay sunny side up!