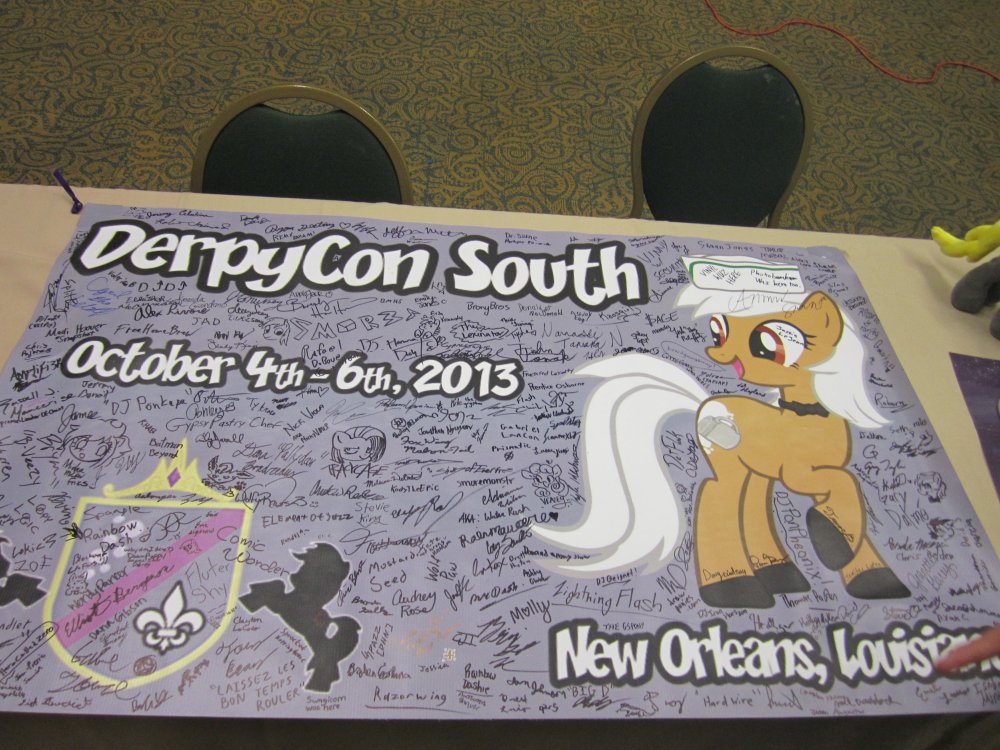 Hello everyone! Everypony! I am back from Derpycon South and I wish to share my experience with all of you. This was my first con ever. I also hope that this will drum up some interest for next year.
First off, the Derpycon South banner that you see was signed by everyone at the con. All the attendees, panelists, musicians and guests.
Now then, let's start with the first day. Friday Oct. 4th. Before all this, I got together with some people to share a hotel room with. So I will be referring to them as my group. The people in my group were; DJ Ponpheonix. Who is from my hometown. He has music up on soundcloud, under the same name. The GSPony. A vendor and military brony who sells chainmail bracelets colored to match the ponies. And he has other chainmail creations. The last in my group was Spangle. Some of you might know him from FOB Equestria and the Military Bronies React videos. Plus he does some DJ'ing.
When I first got to the con, I was the only one in my group to show up. So I had to wait for the rest of them. But as soon as I got to the con, I pretty much immediately got sucked into someone else's group. After hanging out for a bit the first in my group, DJ Ponpheonix, arrived. We sat down just in time for the first panel, Everfree Animation. There ShadesofEverfree, FoxWing Mabon-Tail, and Prentice Osborn talked about animation, voice acting, and showed their favorite animations they worked. They also showed their new animation which was created exclusively for the con. It features the con's OC, Beignet, and Pinkie Pie's R63 counterpart, Bubble Berry.
Beignet is voiced by Prentice Osborn and Bubble Berry is voice by FoxWing.
After that we got up with some people to hunt down some food. We headed out to conquer New Orleans in the name of bronies! Mua ha ha ha!...I got to tell you, it felt awesome to walk around New Orleans with a group of bronies while wearing a Rainbow Dash shirt and Derpy lanyard. After we had our fill, we made it back in time for Equestria Idol. There, attendees put their voices to the test singing various MLP songs. The best, and the one that won, was a guy who sang Celestia's Ballad. Also during the Idol several people from the audience, including Solrac, got up on stage to sing to and dance to Helping Twilight Win the Crown.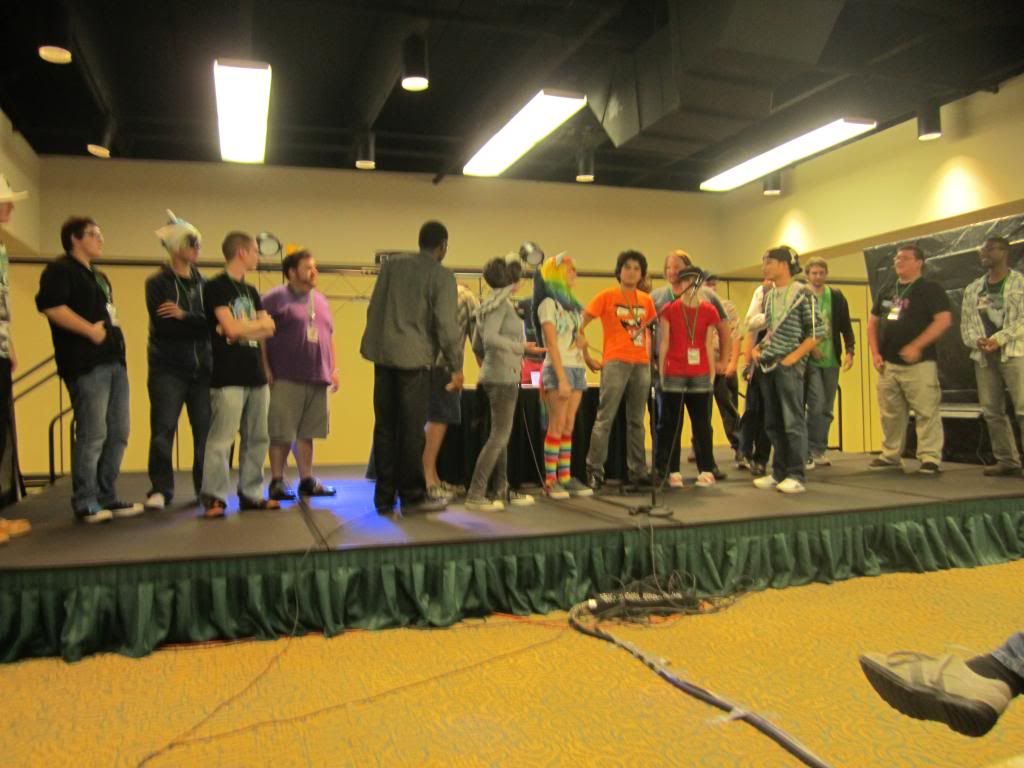 When that was all done we walked around and checked out the vendors to see what we wanted to purchase for the next day. Also when the Idol was done, GSPony and Spangle had arrived. Before we went back for the opening ceremony, we checked out the Traveling Pony Museum. There I found a most amusing piece on display.
The opening ceremony introduced Anneli Heed, Solrac, Odyssey Eurobeat, Flutterwhat and Cyril the Wolf. After the introductions, Flutterwhat played for about an hour followed by Cyril and one or two other musicians. After Cyril played, we then went out to get some more food. GSPony did not come, he had to deal with his vendor table. We had a group of a few of the DJ's, and the creator of Legacy of Harmony with us as we headed out. For those that don't know, Legacy of Harmony is the D&D pony game. Anyway, after walking around for a bit looking for a place to eat, we end up at Popeye's. After that, we ended up back stage where Spangle was practicing for the dance party for the next night while me and ponpheonix chatted with the creator of Legacy of Harmony. Don't know his name. Anyway, after that, we left for the hotel room and ran into a couple of drunk women who took our pictures and was asking questions about ponies, the con, the fandom. Whatever their drunk minds were thinking of at the time. Well, after about ten minutes we finally broke free when Spangle and a few others came walking by.
Before I finish with the first night, let me share an interesting sign that I found in the mens bathroom.
Anyway, up at the hotel room, we had some Apple Cider. The real stuff, chilled, and watched some Family Guy before cuddling up in bed. Okay, so we didn't cuddle, but we went to sleep.
The next day we all woke up and left in time for the Military Brony panel which included Spangle, GSPony, Mack(an awesome guy we met), and another guy. Can't remember his name. After that we walked around the vendors and started to buy up some swag. Well, me mostly. There I snagged up an awesome Celestia canvas painting along with some prints and a Solrac shirt. We then sat down for the Super Cosplay Battle. Afterward, I put my stuff up in the hotel then came back down and got together with some of my group and a few other to head to Cafe Du Monde for some beinget's. Anneli Heed's panel started at that time, but we decided to go anyway since she had another panel on Sunday.
Well, when we headed out, it decided to rain on us as we walked to the Cafe. When there, the rand had pretty much stopped and the Cafe was too full. So we headed back and stopped at a restaurant along the way. There I got a Veal Parmesan Po Boy and we had an awesome waiter. He waived the fee for our drinks, and charged one of the guys in our group the price of a cheaper meal. When we left, it decided to rain on us again on the way back. Well, after getting back to the con and drying off in the hotel room, me and Ponpheonix found a little friend up on the 4th floor.
We made it back in time for the costume contest, and the some of the more noteworthy cosplays were; A faceless Twilight, Slenderman and Anon, and his Excellency: Princess Big Mac.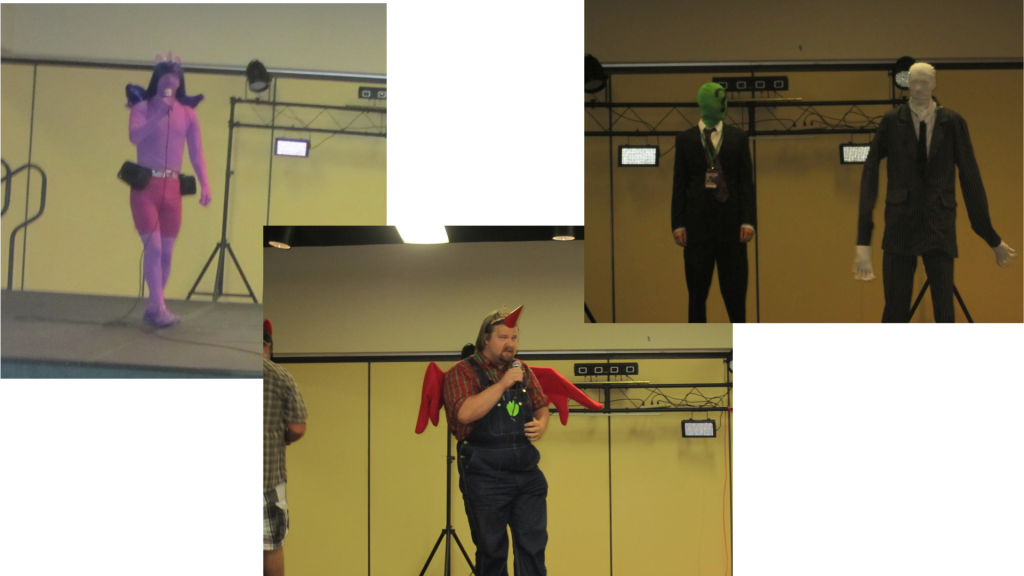 After that, ShadesofEverfree came around and was taking money to have our OC's in an upcoming animation. I happily obliged. Along with several other attendees. Afterwards, I bought some more stuff. At least I think I did. I might be getting some things mixed up. Oh well. We hung around some more, rested for a bit while waiting for the Dance Party to start. Ponpheonix and Spangle apparently went back to the hotel to mix up a few drinks and missed the opening concert with Anneli Heed. She sang three songs. One with Flutterwhat, which he wrote for her to sing as Spitfire. One with Cyril, and one with Odyssey. I then stayed to listen to Flutterwhat and some of Smore's, but my back was bothering me so I just sat and stood around instead of dancing. I didn't want to take a chance of irritating my back any further. Several people were dancing and shaking the floor, even Solrac did a little dancing. I went up the hotel room to rest my back, but I missed Odyssey. I came back down when Ponpheonix and Spangle headed down.
When we got down, apparently everyone decided to leave and only a few people were still dancing. Well, we stayed for the DJ Leaviun who finishing up. Then for another, don't know who, then it was Spangle's turn to DJ. Afterward another guy got up and we stayed for most of his. While I was sitting down, Leaviun came over to me and started chatting. He decided to give me a CD and had me give my email so he could send me new and bonus songs. When that was over, we headed back to the hotel. This time there were no drunk women about. Got up there, watched some Fullmetal Alchemist Brotherhood and Cowboy Bebop before I fell asleep. Woke up the next morning, went down stairs for a bit to see Solrac's panel, but it had gotten pushed back. So I gathered my stuff and put it in my car since we had to be out of the hotel room. I held on the stuff I was getting signed.
We got to Solrac's panel just in time, and it was awesome! Hilarious! And tons of fun! After the panel ended, I got him to sign my Solrac shirt and game him a brohoof. I then sat back down for the DJ's/musicians panel. And then after that, it was time for Anneli Heed. Questions were asked, a flower was given, and someone decided to have her speak a line of Twilights when she doesn't even do Twilight. Well, being the Rainbow Dash lover I am, and given the fact that Anneli sings for Rainbow, I had her sing Dashies part in the At the Gala song (In Swedish of course). It was so awesome!
She also voices and sings for Sweetie Belle and someone got her to sing Sweeties part for the Hush Now Quiet Now song. In Swedish of course. Anneli also requested that she receives hugs from everyone at her panel. After that, me and Ponpheonix found Anneli and got her sign some stuff and got some pictures.
We also had a group photo with a few others, which Anneli had someone take a picture of us with her phone. I am now on her phone! We chatted with her for a bit before heading off to find some more food.
Before we left for food, I ran off to Drawponies to get a commission of Rainbow Dash in her Gala dress. I spent a little extra money to have it shipped to me. When I came back to get together with my group, they left me!
I decided to put up the stuff I purchased and had signed in my car and then headed out to find them. Luckily I deduced where they would be and found them. When we got back, I sat and watched the charity auction. I didn't bid on anything, though there were a few things I wanted to bid on. But I more just wanted to see what was being auctioned and for how much. The proceeds from the auction were going to a group for skin cancer. After the auction I went back to the vendors and found that Drawponies was having a poster sale, so I got a couple of posters. Then it was time for the closing ceremony. There it was revealed that $1,450 was raised for the charity. We then sang Winter Wrap up with Anneli Heed and then con ended.
Spangle and GSPony had to leave early that day, so they weren't with us. Me and Ponpheonix headed out afterward to got to Cafe Du Monde. It wasn't crowded so we got our coffee and beignet's. We then went back to the con area, sat down and watched the video I recorded of Anneli heed singing. Cyril was still there, so we chatted with him for a bit before left and parted ways.
The con was very enjoyable. It was their first year and it was a small con. But that just made it so we could spend time to get to know many people and chat with the guests, panelists, and musicians. Solrac is awesome and very nice in person. He didn't randomly yell at anyone, I don't think... Anneli Heed is awesome and very nice, and she really enjoys the brony fandom. It was a very good con and a very good experience. While I was there, I seem to have found a new love for Rainbow Dash. Being around fellow bronies was definitely positive experience, and I feel much more confident about letting others know that I like MLP if they find out or really want to know.
Now I showcase the sweet swag I got at Derpycon.
I will definitely go again!
I hope everyone enjoyed reading about my experience!
This blog is a little long. I know.
Videos from Derpycon South are now out. With new videos being released about every day. You can find them
here.
You just might see me.