It's the final countdown... I mean Woohoo here continuing my project of rewatching and reviewing every episode of Hey Arnold. Welp, we've reached the last season, guys. I started S5 not long after finishing S4, albeit very slowly to savor it. The final season originally aired from March 2000 to June 2004... wait, 2004? Unfortunately, quite a few of the episodes aired years later after being produced and out of order (WTF, Nick? You seriously have a holdover problem.) Much like Season 3 and 4, S5 has 20 episodes but broken down to 32 11-minute segments, 2 22-minute specials, and 1 45-minute special. This season also has the same animation quality as S4 (though the last two specials have higher quality animation.)
You all know my rating system by now. Since Season 4 was somewhat of a letdown, will S5 be an improvement? Let's jump right in...
---

81a. Sid the Vampire Slayer: Meh | 81b. Big Sis: Bad
82a.* Gerald's Game: Meh | 82b.* Fishing Trip: Bold
83a. Bag of Money: Raspberry | 83b. Principal Simmons: Raspberry
84a. New Bully on the Block: Bad | 84b. Phoebe Breaks a Leg: Good
85a. Stuck in a Tree: Bold | 85b. Rhonda goes Broke: Good
86a. Helga's Locket: Good | 86b. Sid and Germs: Meh
87a. Beaned: Good | 87b. Old Iron Man: Meh
88a.* Ghost Bride: Bold | 88b.* Gerald vs Jamie O: Meh
89a. Suspended: Meh | 89b. Ernie in Love: Good
90a. Arnold visits Arnie: Meh | 90b. Chocolate Boy: Bold
91a. Harold vs Patty: Good | 91b. Rich Guy: Good
92a.* The Racing Mule: Bold | 92b.* Curly's Girl: Raspberry
93a.* On the Lam: Bold | 93b.* Family Man: Good
94a.* Phoebe's Little Problem: Bad | 94b.* Grandpa's Packard: Good
95a.* A Day in the Life of a Classroom: Bold | 95b.* Big Bob's Crisis: Bold
96s. Married: Meh  
97a.* Timberly Loves Arnold: Meh | 97b.* Eugene, Eugene!: Bold
98s. April Fools Day: Good
99s & 100s. The Journal Part I & II: Bold x 2
---
...And that was every episode of Hey Arnold Season 5. Let's see that chart.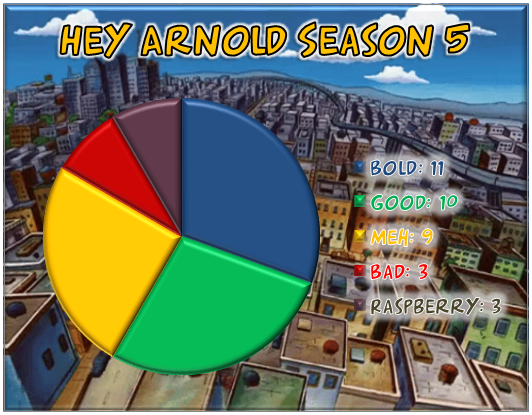 In a way, Hey Arnold Season 5 was a decent improvement over S4; with a few less Bad, one less Raspberry, and a couple more Good episodes. However, there were a few more Meh episodes this season, including probably the only time that a special episode got a rating lower than Good. I don't know what was going on with the writing during the last two seasons, but it feels like something from the previous three seasons was missing. I guess this reinforces my belief that the show's formula was going stale. This also makes me feel very relieved that the show didn't get renewed for more seasons; much like Rugrats back in the day or SpongeBob and The Loud House in the present day, with those shows dragging on and on with no end in sight. Now that I've gotten the critical stuff out of the way, S5 still produced a fair number of Bold episodes; in fact, the same number as S4... weird, huh? Ugh, I'm rambling. Better wrap this up...
As for this season's rating; while the series didn't end on a perfect high note, it did end on a pretty good one. Season 5 is a pretty GOOD season.
Onto my Top 5 for this season, blah-blah-blah had a hard time filling the slots...
 The Journal Part I & II
 Ghost Bride
 Eugene, Eugene!
 Chocolate Boy
 The Racing Mule
Now for the Bottom 5, yadda-yadda-yadda had an easy time filling the slots...
 Curly's Girl

 Bag of Money

 Principal Simmons

 

New Bully on the Block

 Phoebe's Little Problem
 That concludes this entry, as well as my whole saga into rewatching and reviewing every season of Hey Arnold. I hope you enjoyed coming along for this ride down memory lane. Man, I still can't believe this is over... Wait, it's not over. There's one more Hey Arnold thing I still need to review. Yep, I'm talking about The Jungle Movie... which I still haven't seen yet. I'm still trying to figure out how I'm going to review it as well as the 2002 theatrical film. Until then, this is Woohoo... well since I already mentioned "The Final Countdown," I'm blasting off!
Edited by Woohoo
3