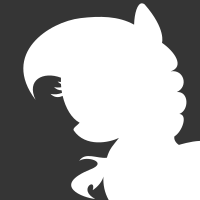 Content Count

2

Joined

Last visited
Hey Everyone! I'm trying to finish up writing up a paper for my college course, Advanced Exposition, and I need an interview with someone in an online community that I'm active with. Any well versed Bronies in the house?

Hey everyone! I've been assigned an interesting project in one of my upper level college classes, and part of the assignment is to interview one individual from a community of people that interest me. I'm really searching for someone well versed on all things Brony and all things My Little Pony. Please let me know if you're interested in participating. Thanks!

Thank you everyone for the warm welcomes!

@@DATA EXPUNGED, Now I am watching part 2 of Friendship is Magic episode 1. It's actually pretty good, I was NOT expecting that.

My Favourite Mane 6 Pony: Twilight Sparkle How did you find MLP Forums?: How you became a fan of My Little Pony: Friendship is Magic: A friend told me about it I'm watching my very first Episode RIGHT NOW!