Let me get one thing straight right off the bat: I don't hate Derpy. So please don't immediately jump to the conclusion "he's a hater, so therefore everything written here is irrelevant." That isn't even a valid argument in any case. Even if I were a "hater", it would not automatically make my opinion any more or less worthy than it would be if I were her biggest fan. So I hope that is clear.

Also from the beginning, I want to make a distinction, which is clear in theory, even if in practice it can be a little hard to differentiate. It is this: there is a difference between evoking emotion and manipulating emotion. Basically, the former invites you feel an emotion… the latter forces you to.
An example may make it a bit more concrete. I once read a fanfiction about Trixie, retelling Boast Busters from her perspective. And throughout the fanfic, Trixie kept thinking to herself about how much she loves her caravan, how she views it as friend, how they've been through so much together. The upshot, of course, is that it later gets trashed by the Ursa Minor, which anyone who saw the episode already knows. So we're forced to feel sorry for her even before the event we're supposed to feel sorry for her about happens. That's manipulative. If she had reflected after the fact on what she had lost, that would be evoking an emotion. It's a matter of timing and subtlety. If you accept this premise, but wonder what it has to do with anything, read on.
At the beginning of the Season, Derpy was noticeably absent from proceedings. There were even rumours that the show staff had been told they were not allowed to include her, and that she had been cut from the show. And that would have sucked. Luckily, this was not true… she had a triumphant return in "Rainbow Falls"!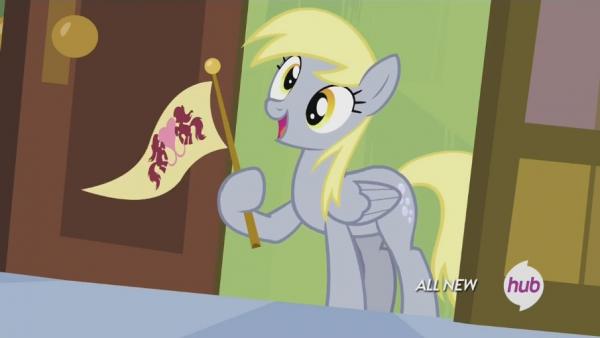 The heavens opened, an angelic chorus rang out, and there was much rejoicing and dancing of bronies!
And believe it or not, I was as happy as anyone to see that wall-eyed mare waving her flag. I thought it was a perfect way to put paid to the rumours of her demise, greatly exaggerated as they were.
Unfortunately, then things started to get out of hand, and I began to get annoyed with the way they kept shoving Derpy into every episode. It wouldn't be so bad if it was subtle, but the writers were making it very obvious when she appeared. Then it settled down again, and I thought things were going back to normal.
Then came the Season 4 finale. When Tirek was on the rampage, he stole the Pegasus magical flight ability. I really didn't like the way Derpy was used here. Surely the villain draining every Pegasus in Equestria should make us feel bad enough. But they make sure to show it happening to Derpy, presumably trying to make the scene even more shocking. To me, that seems to fall firmly on the manipulative side of the equation. "Look at all the poor Pegasus ponies…" "Who cares? Oh, wait, it's happening to DERPY TOO? Oh, the ponianity!" (Yes, I know that's not a word, just go with it.)
I repeat that I don't hate Derpy by any means, but the charm I find in her begins to fade when her appearances start being distracting or manipulative. It's possible that the more obsessive members of her fanbase are probably dusting off their pitchforks, lighting their torches and tracing my IP right now, but I maintain that Derpy should not be the focus of the show. Put her in, by all means. She just doesn't need to be front and center, taking attention away from the true stars of the show. Personally, I like having Derpy in there to add a funny background event (like popping up from a well), or as an easter egg for eagle eyed enthusiasts (like being in Cranky's snowglobe). I hope it goes back to that in Season 5.
3