Why does this episode make think of John Lithgow and Sylvester Stallone? Huh… Anyway, the penultimate episode of Samurai Jack is upon us! Let's see how the lovebirds are doing...
What Happens
Following on from the last episode, Jack and Ashi are kissing. However, the romance is dampened by the fact that they still have slug juice in their mouths, causing them to separate and spit the taste out. Reassuring each other that it isn't a reflection on the kiss itself, they decide to get clean. While Ashi, still wrapped in Jack's gi, goes to find some suitable clothes, Jack heads outside the ship and luckily finds a broken pipe to use as a shower. Ashi, now clad in a green one-piece dress, appreciates the view of Jack nekkid, but leaves his now-clean gi where he can find it.
The two both manage to find some bugs in the desert to cook for dinner that night, despite being chewy and rather unappetizing. Jack reminisces on the beauty of the valley where he grew up, before Aku returned, and mentions that he thinks that he will only ever have the memory, which saddens Ashi.
We switch back over to Scaramouch's journey and Scarry has coopted an octopus to serve as his body. He finally finds Aku's spire, and despite an automated recording from Aku that he is not currently receiving visitors, proceeds inside. He convinces Aku to talk to him and tells him about the issing-May ord-Sway of ack-Jay. Aku is pleased to hear this, and restores Scaramouch's body as reward for bringing the good-bad news. They dance.
In the morning, Ashi wakes to find that Jack has left her behind in secret and follows his trail again. (Note the separate beds… I guess a kiss is as far as they went… pity) Jack walks through the desert, and finds himself in a familiar place… the wreckage of giant robots all around. As he clambers over them, he comes to a destroyed time portal and sees some familiar red sun-glasses broken on the ground. It seems the Guardian and his time portal are no more. (Ah, man. I had hoped to see him again. I guess prophecy is not infallible…)
Ashi arrives and soon, so do Aku and Scaramouch. Aku does his usual "fooooolish Samurai!" bit, until Jack unsheathes his sword. Scaramouch barely manages to protest before Aku blows him up… this time for good. (He just got… Scarasmooshed…

)
Jack tries to attack Aku, but the Shogun of Sorrow avoids him easily, despite being distracted by something that smells like him, but isn't. Aku then turns to Ashi… As it turns out, Aku did once visit the Cult of the Daughters, and even contributed some of his evil (from his hands, I might hasten to clarify) for the High Priestess to drink, thus impregnating her with Ashi and her sisters. (So the name "the Daughters of Aku" turned out to be literal. I must confess, I didn't see that one coming…)
Ashi is unable to control her body, attacking Jack with a purloined sword. After they trade a few blows, Aku fully releases the evil within Ashi, turning her into a black-clad clone of himself, with GREAT FLAMING EYEBROWS! The fight resumes, Akushii being much stronger and faster now. Jack still manages to graze her with the sword, releasing the good part of Ashi long enough to beg Jack to kill her before she is again subsumed.
However, Jack cannot bring himself to do it, and drops his sword. A triumphant Aku holds it up as Jack collapses before Akushii and… WATCH OUT!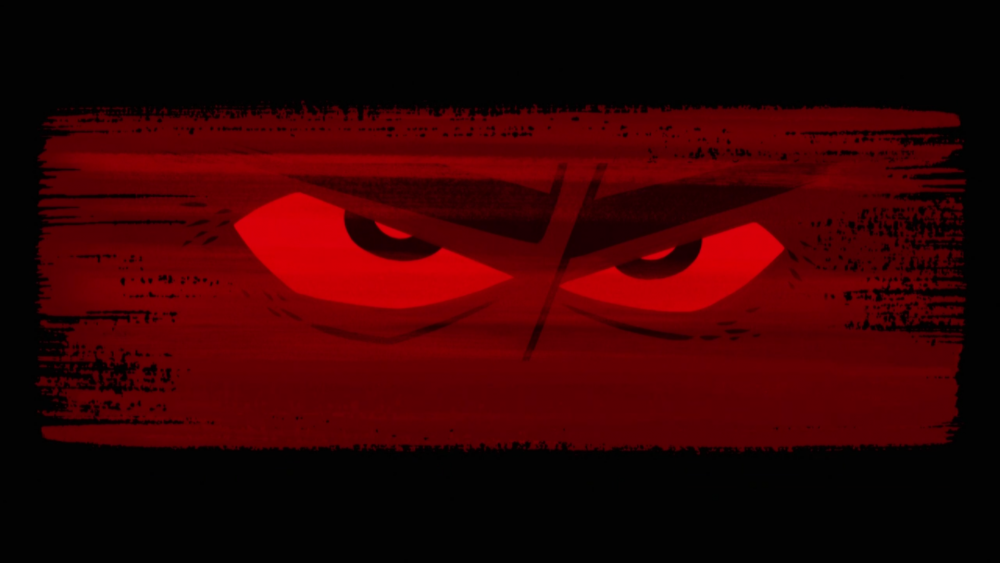 Thoughts on the Episode
You see, Friendship is Magic: that is how you do a cliffhanger! I always disliked the habit of two-parters in FiM being aired together… it leaves no time for tension to build. And for now, that is where I will leave it. Comments welcomed, and look forward to a bumper review when this whole shebang is all wrapped up. Stay sunny side up!