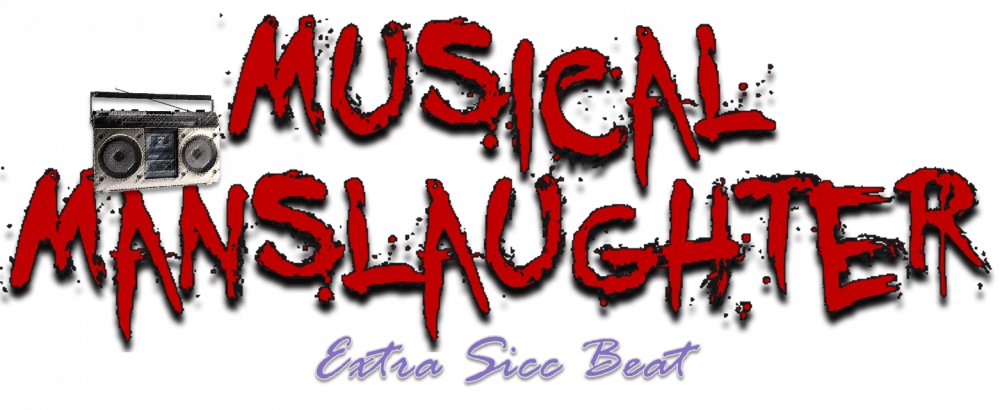 What's up, everypony? Woohoo here with my atrocious intro writing abilities. Anyways, welcome to the first entry of Musical Manslaughter, because you can't spell 'slaughter' without 'laughter' and these songs are jokes.
While I was planning MMS, I was thinking, "how should I kick off the series?" or "what song should I do first?" It didn't take me long to choose one. There is a song... a certain song... A certain song that infuriates me to unspeakable levels. It makes my blood pressure skyrocket to Pluto whenever I hear even the slightest note on the radio. It rustles my jimmies to Oblivion and back. This song causes me nothing but agony and misery... and pain... and ridicule and anger and pain... and suffering... and pain...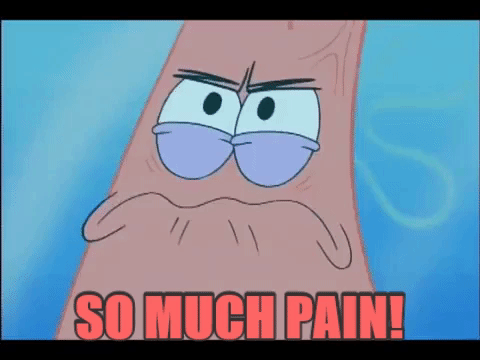 Alright, I'm done with my long winded overly-exaggerated rambling. If you didn't catch the little reference in the logo (which I combined with the popular meme "extra thicc"), that song is... "Shake It Off" by Taylor Swift
Taylor, you perv! VEVO couldn't have picked a worse thumbnail 

Oh boy, this is going to be a doozy... Before I rip apart this song, I want to talk a little bit about the artist behind the song: Taylor Swift. She really needs no introduction. In less than a decade, she transformed herself from a sweet curly-haired country princess into arguably the biggest female pop star in the world. Everyone has their opinion on Tay-Tay, whether you love, hate, or probably not care at all about her. With all of the success she's had, it's not really surprising that she'd be polarizing. As for my opinion? Up until 2014, I was never a fan of Taylor. I simply saw her as just another popular singer who made one-dimensional yet sometimes catchy music.  I never really cared about her relationships, breakups, or feuds, though I did find a bit annoying but that's just me.
But then, everything changed in the summer of 2014 when the Fire Nation attacked she made "Shake it Off," a song addressing how she's shaking off all the haters. Since then, I absolutely can't fucking stand her anymore! Just the mention of her name makes my face go full on Yellow Diamond.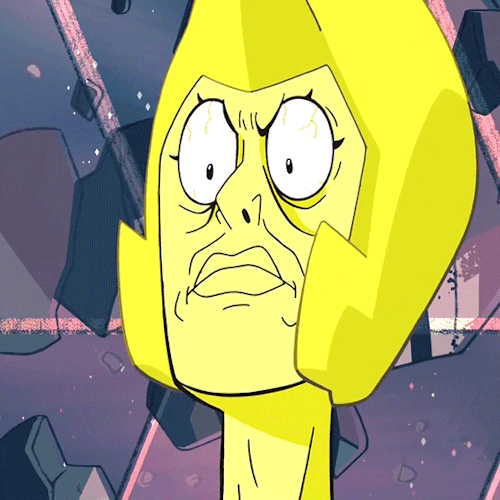 Damn, I'm rambling again... So how did this one song forever tarnish my perception on Taylor Swift... let's break it down.
---
So the song begins with a very basic beat. Nothing good, nothing bad, it's just somewhat tolerable (for now...) But then the lyrics come in...
I stay out too late, got nothing in my brain,
That's what people say, mmhmm, that's what people say, mmhmm
Wow, only 15 seconds in and we already have a red flag. First off, who the hell is complaining about you staying out too late? I mean, you have concerts to perform and those go on pretty late. The only person who should be concerned about staying out too late is yourself. To say people complain about you staying out too late is a crock of shit. As for "got nothing in my brain," maybe it's because people think you have the mentality of a 15 year old, which goes into the next lines...
I go on too many dates (chuckles), but I can't make 'em stay,
At least that's what people say, mmhmm, that's what people say, mmhmm
Ugh, that chuckle was so unnecessary... Honestly, I don't really care about who you date. You can date whoever you want. Hell, you can date a rock and I still wouldn't care. Although I think Maud Pie would have a problem with that.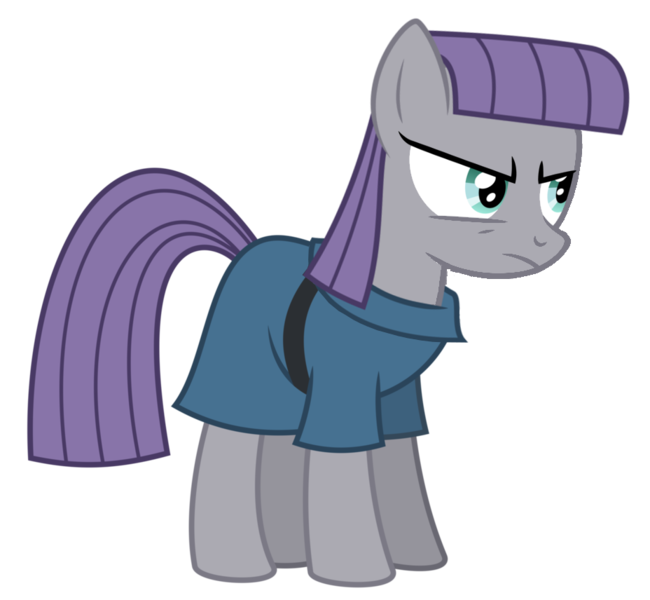 As for the people who do complain about you "going on too many dates but can't make them stay," it's probably because of two things.
They're sick and tired of you writing songs about your breakups.
They think know you make them want to break up with you so you can write yet another song about bad they were, which usually becomes a hit on the charts and makes you more money. Maybe one day, you will realize that maybe, just maybe, you are the problem... Moving on!
But I keep cruising, can't stop, won't stop moving
It's like I got this music in my mind, saying "It's gonna be alright"
It's not gonna be alright... because I have to hear the goddamn chorus right now!
'Cause the players gonna play, play, play, play, play
And the haters gonna hate, hate, hate, hate, hate
Baby, I'm just gonna shake, shake, shake, shake, shake
I shake it off, I shake it off
Heart-breakers gonna break, break, break, break, break
And the fakers gonna fake, fake, fake, fake, fake
Baby, I'm just gonna shake, shake, shake, shake, shake
I shake it off, I shake it off
Ho... ly... shit, this is horrible! One of the worst choruses I ever heard! Where do I even begin with this?!...
"Players gonna play?" "Haters gonna hate?" Why are you stating the obvious?! Are you also gonna tell me the sky is blue or night is black?This has got to be some of her laziest songwriting ever. No effort whatsoever. It's even lazier than Rebecca Black's "Friday" and that's saying something.
Do you really need to repeat last word of each line five times? Why so much repetition?! Do you really think that's catchy?! Do you realize repeating the same things over and over is annoying to many people? There is a very fine line between catchy and annoying. This song not only crosses the line, it fucking obliterates it.
Nothing says "I don't care about what the haters say" than putting weeks/months worth of effort into writing a song to tell them that. Frankly, the more you keep hammering that into their brains, the more likely they'll think that you actually do care about what they say. Wow, that was a mouthful. Seriously, if you can't handle criticism, constructive or otherwise, then you are probably in the wrong profession.  Then again, I should've expected this from the same artist who wrote the song "Mean," verbally attacking a critic for, of all horrible things, doing his job.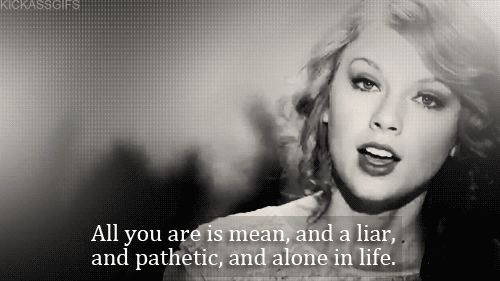 America's Sweetheart, everybody...
Ugh, not even a halfway there and I'm already losing my sanity, but I can't stop now... Onto the next verse.
I never miss a beat, I'm lightning on my feet
That's what they don't see, mmhmm, that's what they don't see, mmhmm
I'm dancing on my own, I make the moves up as I go
That's what they don't know, mmhmm, that's what they don't know, mmhmm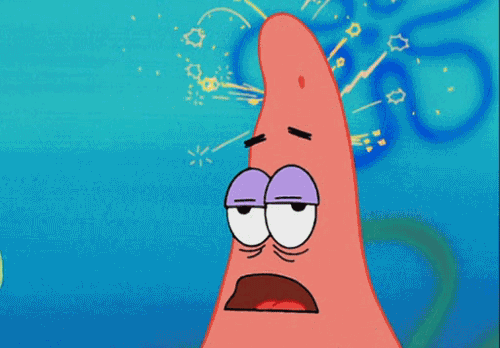 What the hell does dancing have to do with shaking off the haters?! I'm not gonna waste too much time on this verse, probably because it's so confusing, so I'm just gonna comment on just this one line. Lightning on your feet, you say? Sorry Taylor, but you ain't got shit on Sanic the HegeHoge.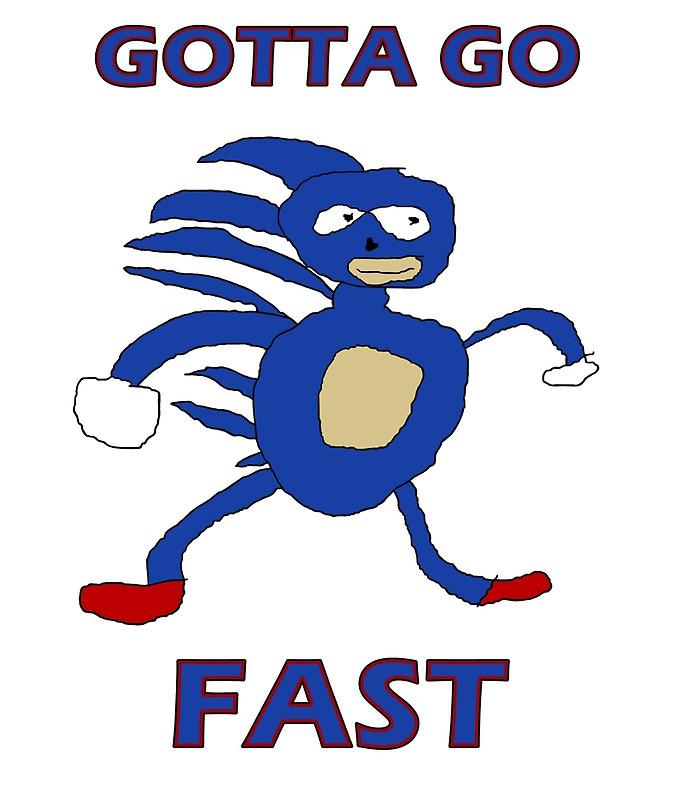 He's the fastest meme aliiiiiiive!
Like any other song, we get another repeat of the chorus, except more "Shake it Offs" are added in! WHYYYY?! Do you realize repeating the same things over and over is annoying to many people?! Great, now I'm repeating myself! So now we get to... the bridge...
Hey, hey, hey, just think while you've been getting down and out about the liars and the dirty, dirty cheats of the world...
Yes I am down and out, because you're one of them.

You could've been getting down to this... sick.. beat...
Remember earlier when I said the beat of this song was tolerable? Well, after this one line, it becomes intolerable! Sick beat... seriously, Taylor?! You call that beat sick?! It sounds like it was made in Pro-Tools using the "Make a Random Beat" button! Then again, I guess that beat is sick... sickeningly obnoxious! You want to hear a real sick beat? Hit it, professor!
My ex-man brought his new girlfriend, she's like "Oh, my god!" but I'm just gonna shake
And to the fella over there with the hella good hair, won't you come on over, baby? We can shake, shake, shake
Because it wouldn't be a Taylor Swift hit song without mentioning one of her exes. Also, stop trying to rap. You're making yourself look like a bigger fool than you already are.
Alright, time to wrap this up. We get one more repeat of the damn chorus... except with even more "Shake it offs" added in! Once again, WHYYYYYY?! Enough is ENOUGH!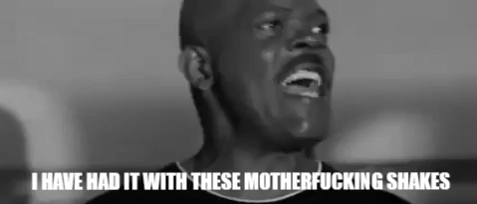 Why do you keep repeating yourself?! Did you not have any ideas how to end your song or did you just not feel like it? That's so lazy! Every time I hear you say "shake it off," I feel like I lose 10 IQ points each time! Just when I'm about to completely lose my sanity, the song finally ends.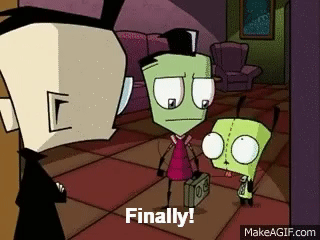 ---
And that was "Shake it Off" by Taylor Swift. Do I still hate this song? Hell yeah! Is it any better than when I first heard it in 2014? Hell no! You know why? Let me break it down for ya.
The lyrics are so lazy, poorly structured, and most of all, overly repetitious. Her vocals sound so processed and grating, far from her sweet sounding voice from her early days, and the beat is sickeningly obnoxious (thanks to a certain line.) The overall repetition in this song... oh boy, of the 585 words (yeah I counted) used in this song, the titular line was used 36 times and the word "shake" by itself was used a whopping 78 TIMES! That's more times than Justin Bieber says "Baby" in his signature song. In fact, at least 60% of this song is spent repeating itself, and I find that unacceptable! I know that music is built on repetition, but this song went way too far.
Alright, enough about the repetition let's talk about overplayed-ness. When this song first came out, it hit number one on the charts and I could not get away. I think I heard this song like at least 5 times a day almost everywhere I went during late 2014-early 2015, constantly getting stuck in my head and giving me migraines! There was one day where I heard this song being played on five different radio station at the exact same time! While I'll admit the song has a decent message of being yourself and not taking shit from anyone, that gets completely lost within the surrounding nonsense. I find it very nonsensical that she wasted so much effort to write a song to tell the haters that she's going to shake 'em off. If she really wanted to shake 'em off, she shouldn't have made this song. If anything, this song probably reinforced their hatred of her as well as spawning more haters, including myself. As for negative effects on me, there were a lot, but let me list a few...
Lost what little resect I had for Taylor Swift... also Max Martin, who went from producing my favorite jams like "I Want It That Way" and "It's My Life" to this train-wreck!
This song got stuck in my head constantly to the point of agony.
Lost faith in humanity at one point.
I would have Taylor related nightmares almost every night for over a year, not even Luna could save me.
Friends and co-workers teased me and claimed I secretly loved Taylor. Aren't they a little old to be teasing?!
My dad and I got stuck in her traffic when she came to Seattle in August 2015 and we missed my ferry to Bainbridge Island.
Now for the final score. Pretty abysmal, isn't it?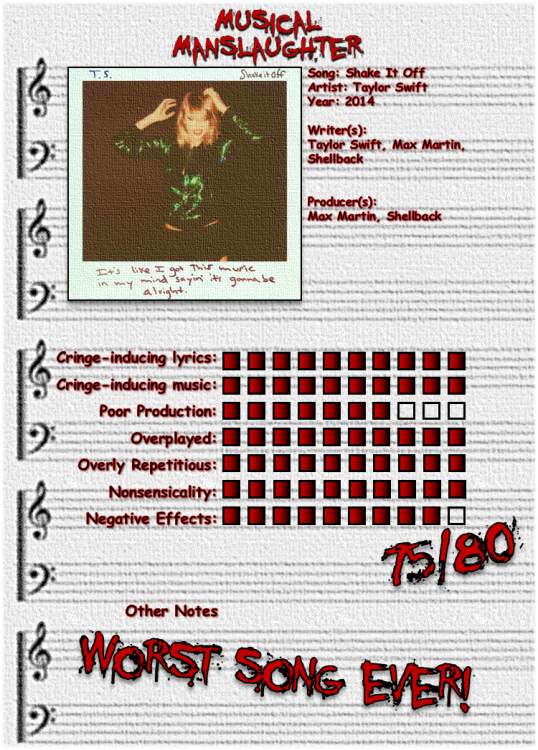 Yeah I consider this the worst song I ever heard, but this is just my opinion. If you like this song, that's alright, I won't hate you. And that concludes the first entry of Musical Manslaughter. Join me next time when I rip apart a song that claims to be a tribute to one of the greatest singers of the last century when the song is actually a ridiculously corny sex song...
Now I wait for the Swifties to come and eviscerate me... 

3