Hey.  This is a preemptive Grind My Gears.  (For all the good it will do.)
Y'know what's really gonna grind my gears?  With S9 being the confirmed end of FIM, I just know that the whole year will be absolutely filled with people saying things like, "I can't believe it's all going to end!  The ride is over!  The fandom's over!  It's all gone!  The past nine years, gone!  No more Pony!  That's it, everyone!  Say your goodbyes!  It's been fun; so long!"  and such and such.
When I hear that stuff, it just makes me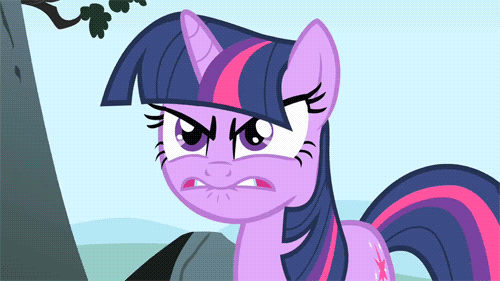 Yeah, I know it's ending, but that doesn't mean that the fandom is going to evaporate into thin air.  It's not all going to be erased from existence.  This isn't a rollercoaster: you don't have to disembark when the ride ends.  Are there not franchises that you enjoy even though they've long since seen their end?  Good things stay relevant for generations even though there isn't new stuff.  I mean, did people just stop enjoying Star Wars after Return of Jedi came out?  And before you start screeching at me, think about it--sixteen years passed between the release of Return of the Jedi and The Phantom Menace.  Nobody was expecting the prequels during that time.  Nobody was waiting for more movies.  It was a surprise when it happened.  Everyone just thought the trilogy was over, and that was that.  But did the Star Wars fandom end?  F*ck no!  There were still books and merch and conventions and all that sh*t, and there still would have been/would be even if there had never been another movie!
I can't speak for anyone else, but I'm not going anywhere.  I'm still going to haunt the forums regularly for as long as they exist, and I hope it's for a long, long time.  I still want to talk ponies, and I want to talk other stuff with my fellow Pony fans.  Where else would I go to make my blogs?  I'd be lost without this place.  I'm sure fan content will continue for many years.  We can rewatch the series periodically, we can read the books, watch youtube Pony videos, collect fan art, read fanfics, listen to the music, both the official and the fan stuff, and of course, you can make content if you're into that.  And we can chat on here!  Yeah, it's bittersweet that the show is ending, but please don't act like the second the finale airs, we all have to turn off the lights, leave the room, lock the door, throw away the key, and never see each other or speak of Pony ever again, cuz that's just bogus, man.
And lest we forget, if G5 is good, we can all board that train.
4