Remembering My Dear Daddy <3
Today is the day of my fathers funeral. He passed away December 22. I love my daddy, he was my best friend. He was always there always by my side. I could be so wrong and both of us could know this but he would still support me and my choices. He was funny, caring, loving, a gamer, and he was a fellow pony fan.
I never really knew if he was big into ponies or just loved seeing the pinatas I made. Either way the ponies made him happy and he was so impressed with each one. He never could wrap his mind around how I did it and it was so cute to see him so interested and fascinated by what I do.
These past weeks have been difficult yet peaceful, I am sure I will be an absolute wreck after the funeral but until then I am ok. I would like to share what happened the day before he died. My dad came over to my house to drop off a Christmas care package. The box had a turkey, all the fixings, deserts, tacos, like everything even like 4 more cans of beans. (no one eats the beans.... I got over 20 cans that are just going to sit there, because my dad thought I liked them and I couldn't tell him I didn't... I really appreciated the care pack and the beans made me laugh.) So I got to see my dad and hug him and tell him how much I love him and I gave him one more kiss. With that he left.
It doesn't end there no, it gets better. I got an email a few hours later saying this...
"Hi Alaynna,
I am sorry to say, i wont be able to give you anymore shifts.
You are a very good person, and wish you a good luck for future.
You can come coming friday to collect your paycheck. Also, please bring your Tshirt."
Yeah, I got fired.... they replaced me with their old white girl... so new white girl was canned.
This was great news (crappy I lost my job but this would mean I get to spend Christmas with my family.) So at 10pm I called my mom and dad to tell them the good news! I got to talk to my daddy one last time, tell him good night and I love you. He went to bed a couple hours after that and passed in his sleep.
Before he told me I love you he said this. "You are far better than you think. I believe in you Alaynna. Shoot for those stars because I know you can reach them. I know you can go further!"
I will never stop shooting for those stars daddy, it kind of makes me feel closer to you... One day I will touch those stars dad, I will accomplish all of my hopes and dreams. One day I will join you in the stars daddy. I love you so much.
Forever and always I am your little girl.
With much love I wrote this for you. It is a promise, to live my life to the fullest each day.
Love always,
~PP
For my readers, Please take this moment to tell your loved ones how much they mean to you. You honestly never know when it is going to be your last day. Let my message to my father inspire you to at least not take for granted. Life is too short to do that.
A cute pic of me and my daddy at grad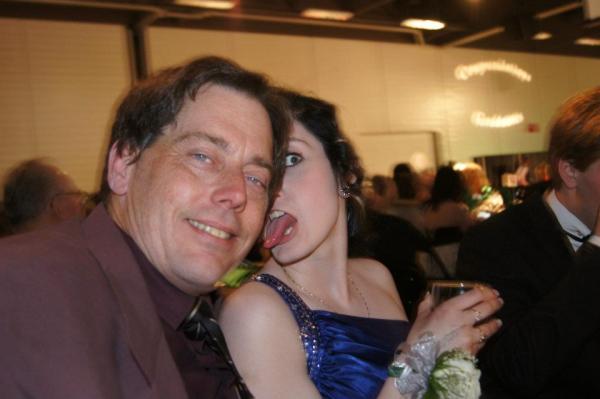 5