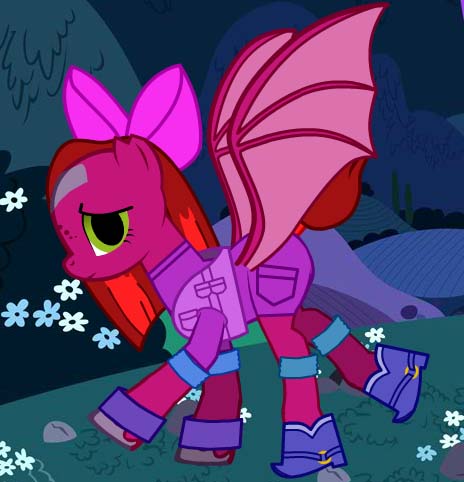 Hy, its me again for another blogpost...because their all loved and read by everyone, so i decided to make a new one...who even cares?
But, here is an explanation of why im not talking to people here and why im not watching mlp anymore.
All of it started with the bad experience i had in the german bronies forum, they laughed at me for watching the older gens and that alone was a reason why i had nothing to talk about with them.
They found my posts in forengames to be gay, they said i should leave and they even killed my rpg characters because they were to annoying.
I even then watched G4 but never talked to anyone because of they already bad first impression i had about everyone.
And it then also started that i questioned to even watch mlp anymore,
and if it was really worth it.
Yeah, the show might be cute and entertaining and was a good difference to all the horror stuff i watched but after a while i realized, my father found it strange that i watched it, i would have never the courage to tell anyone anyway that i watched it and the german community was unfriendly.
Also it just wasnt going to be my new favorite show.
So i just stopped watching because...i felt it was pointless to watch.
So i started to watch Dc Stuff just to try something new. It was just a random decision. But i guess my father helped a little by showing me " Men of Steel " which was one of the best movies i ever watched
EVER
But after a while i also realized that they wasnt really a Forum for Dc Comics.
Most of these Forums were just about about the Comics, which i never read and also dont plan too since they are simply to many and that a lot of these Dc Fans didnt know or care that much about the really old stuff and shows.
( kinda like bronies with the older generations
Also the Dc Comics Forums just look plain ugly :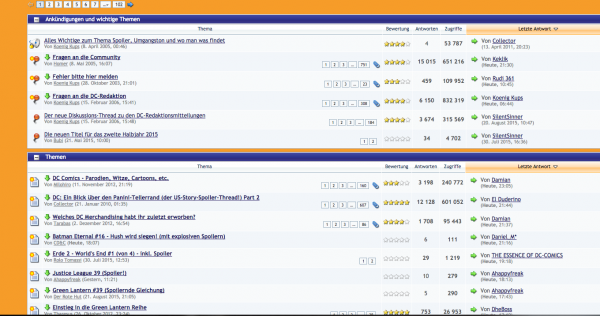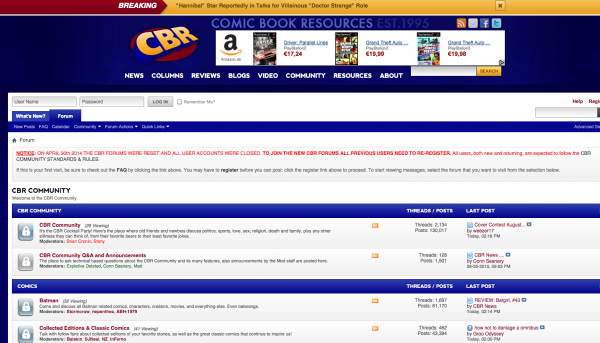 Not only is the color choice plain terrible and uninteresting, also these forums are about comics in general and WAY to BIG for me to even think about to join
They just look confusing

I feel like i would get lost..also, as i said :
I DONT EVEN READ THE DAMN COMICS!!! I cant even find a section for adaptions , and even if i do..there are simply not that many topics, because the main part of Dc Comics are..as you guessed, COMICS!
So what am i supposed to do?
After the disaster that was bronies.de, i thought about joining an english site because i just missed the cute pony icons that looked so inviting and friendly.
And so i joined Mlp Forums and i actually have quiet fun here.And i also have a surprising amount of friends..dont even know why, but im damn happy about it
So now of course im still thinking to rewatch mlp and watch further, but then again...i had a pause from a year or more and watched a lot of dc stuff that i really liked that i have a hard time by deciding what im supposed to do
Should i give up Dc Comics, something im really interested in to watch only to watch again something which will probably never going to be my favorite series anyway just for the sake of talking to people?
Or should i stay with Dc Comics, which i really like, which has an community which i cant talk to, because i dont have the slightest interest to join any of these boring sites and no interest of reading the comics...EVER!
Either way, i end up in either watching something which im not interested in anymore or end up in a fandom which i cant talk to because of this stupid comics and the way to big, extremely confusing and boring sites
And then there is of course all these other problems like stil have no job, so that i cant do anything anyway.
Anyway, here is the short version of this post :
IM BORED AS F***!!!! AND HAVE ABSOLUT NO IDEA WHAT TO DO IN MY LIFE!!!! AAAAAAAAARRGHH!!!!!!!!!!!!!
But then again..that are not really problems...i dont even know what is wrong with me...i just need help. Wait, i dont need help, my problems are ridiculous ! What problems are those?My life is great i should be thankful!
This arent even real problems...i just dont know anymore...life is not fun...not at all...and it isnt even because my life is bad..im just stupid and have know idea what to do...i never had, i never will.
Im just.. im just... I DONT KNOW!

I would never feel comfortable in these gigantic comic forums without the pony icons and couldnt really talk to the fans for that long since it goes more about comics. And i also didnt watched that many media so that i only have less to talk about, and with the no job situation, i have a long and difficult time to even catch up on anything.
On the other hand im not interested anymore in Mlp.At least not that much.
My life isnt necessarily bad, not in the slightest ( except no job, horrible past and depression attacks from time to time ) but i just have no idea what to do with it.
Of course i could go out...but what do? I have no idea where to go, what to talk about or anything.
I just dont know. Not have the slightest idea about anything.Thats it i guess.
Maybe im not even liking Dc Comics as much as i think. Maybe i should just completely do something else...i dont know.
That should be my motto from now on : " I dont know "
Whats your personality ? " I dont know " How would you describe yourself ? " I dont know " What is even wrong with you ? " I dont know " What do you want to do with your life ? " I dont know "
Why do you even post this????????
Honestly? I dont know...