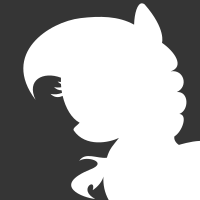 Content Count

1

Joined

Last visited
Cross my heart and heart and hope to fly stick a cupcake in my eye if you cross pinkie pie kiss your flank goodbye!

It was a humid day in ponyville everypony was doing there normal things.... But then again nothing is normal really. It seemed quite... Too quite it's seems. Sugercube Corner was busy as usual, pinkie pie was just finishing up on a project of her's it was a new cupcake recipe, she was excited about it. But the issue was she was worried that it woulnt bake correctly. Pinkie decided to just hope for the best, because she's pinkie pie the best party pony! Pinkie Pie - hello reader I know this fanfic may not be so correct as in lituture, as in spelling so take time to help the author to make

i really think that most forums are dead because everypony else is here? But anyway I'm still new here! And I'm working on a fanfic atm.

I like your character! how did you make it? Draw it?

Thanks again! "friendship is magic"

Thank you all! You guys are very nice! I'd like to have friends like you guys!

my name is Vasin James! I'm new here what's MLPForums all about?