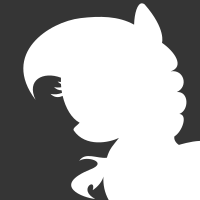 Content Count

869

Joined

Last visited
Profiles
Forums
Character Archive
Frequently Asked Questions and Helpful Hints
Equestrian Empire Character Archive
Pony Roleplay Characters
Calendar
Blogs
Store
Everything posted by qqq
@@Gloomfury "I'll think about it," Glacier replied. "I still can't understand why you care about me so much and want me alive. I'm not providing anything or assisting in a job or something like that." To help pass the time, Glacier levitated a group of pebbles in front of her. She bounced them in the air slowly and moved some of her attention from Shamrock to the magic.

@@Gloomfury "That sounds like a good idea," Glacier replied. "Your hotel room was not big enough for a pony. It was the perfect size for a foal and not a fully grown mare." Glacier walked over to a soft patch of dirt, walked in a circle on it and lay down on it in a ball. She kept her eyes on Shamrock. 'Now's the best time for her to strike if she's up to anything dodgy. I'll need to keep my wits about me'

@@Gloomfury After Shamrock opened the door, Glacier quickly dashed through. She stopped growling as soon is she left the street and hastily ascended the stairs. The house was lavishly decorated and Glacier it had more space than Shamrock's apartment so she felt a little more comfortable. However, she wasn't here to look at sofas. Glacier climbed the set of stairs that led to the roof and looked around. There were many plants she recognised and knew about, but in the midst were a few she'd never seen before. 'Must be something they bred.' she thought. (Here's the picture I wanted

@@Gloomfury Glacier nodded. "That sounds rather good," Glacier replied. "It sounds like your friend knows what she is doing if she's able to grow trees on top of a building. How far away are we from the garden?" Time had begun to wear on. The streets of Fillydelphia were beginning to fill with ponies coming back from work and going to resteraunts for dinner. Gradually, the streets began to fill. The large amounts of ponies getting closer to Glacier annoyed her and she growled continuously with dislike.

Do have to upload pictures we want to use in signatures to a site like Photobucket or is there a simpler way?

@@Gloomfury Glacier increased her speed again to get alongside Shamrock. "I suppose we may be able to. I could use the opportunity to build my endurance as well. Do you know what's going to be in the rooftop garden? Will it be just plants in pots are open earth with a variety of foliage?" (Also, do you have any idea how you put an image into a signature?)

Argh! Why does every RP I join have to grind to a halt before the good bits?!

@rainbowpie8904 @Demirari @**Appleshy** You all hacen't posted in a REALLY long time. Are you still interested in playing? (Positions will begin to be replaced if you do not reply quickly.)

Glacier sighed and kept up her pace. 'What's she grinning over?' Glacier pondered. 'She better not think that by physical contact, I meant love-making. I'm not some cheap courtesan.' After a very brief dash, Glacier was back next to Shamrock. She was further from her side than before Shamrock bounced ahead. "I suppose this garden may be something to do. They may even be something there that I could use later."

@@Gloomfury "I don't have anything that needs doing," Glacier replied. "It doesn't seem fair to make the accuracy board as it'll be me that has all the fun and if you're really that desperate to spend time with me, I doubt you'd go and find your own entertainment. There's nothing particularly interesting about going back to the park." With a sigh, Glacier continued. "It would be nice to find somewhere I can relax though. If I'm relax, I may feel more comfortable with physical contact. Anywhere you want to go?"

@@Gloomfury "You can go in if you want," Glacier replied. "It looks far too crowded in there for me to feel comfortable and if the ponies within are as rowdy as you say, I'd rather not take the chance on getting hit. I'll find something else I can do if you choose to go in. After all, you're strong enough to look after yourself; you don't need me to protect you."

@@Gloomfury Glacier and Shamrock continued walking. The residential district had ended and they were now in one full of shops and cafés. A strong aroma of coffee wafted around the streets. They were a few ponies on the streets here and they were walking around at a hurried pace. As she looked at the buildings, she saw one with a large sign that said "The Royal Oak". On closer inspection, it turned out to be one of the pubs that Shamrock was interested in. "Are you going in?" she asked.

@@Gloomfury (No worries.) Glacier smiled as Shamrock recalled the story of how she met her father. "That's a little bit odd," Glacier said. "Your father helped you get away from starvation whereas I helped my father by going ​into starvation. And thanks for being concerned for me." Glacier looked into Shamrock's eyes. "It's nice to have more than one pony who's alive care about my wellbeing."

@ Listening to Nova's story about his adventure bored Glacier. She knew what adventuring was a jumping off of a cloud certainly wasn't it. 'That's not an adventure. Any pony given a spell that lets them walk on clouds can do that. It's an extreme sport at a push," she thought. Given her current well being and the fact she was still feeling a little queasy, Glacier was in no mood to incite a row. The best she could manage to air her views was a grunt and a shrug. Whilst shrugging, she could see that Nova had pulled up a second chair and had moved to it. She slowly wormed towards it an

@ "So you're one of the fastest ponies around?" ​ Glacier replied. "That's pretty useful. And about this past spent adventuring, what sort of places have you been to? Manehatten and Appaloosa aren't particularly adventurous." Glacier began to feel dizzy again so she got off of the chair and rolled into a ball on the ground. She kept her eyes and closed and groaned slightly. "Have you got any tips on how to get rid of this sickness?" Glacier asked. "I'm stuck on this airship now and I may as well make the trip as tolerable as possible."

Anyone here attending the Bristol Bronies meet on Saturday? It'd be nice to know more than one person going!

Hooray! Either yesterday or today marks the 1st year since I joined the fandom! *pulls a party popper*

@@Gloomfury "I know it's not healthy," Glacier replied with a blunt tone. "But neither is starvation. I only eat poisonous berries when there is no other alternative. And I know that I can't go around eating any thing I find. Before I started living in the Everfree, I spent a long time reading up on the uses of plants, how to identify a safe and unsafe fruits and mushrooms and about the creatures I was likely to face. And there's no need to worry about teaching me how to cook. I enjoy living wild."

@@Gloomfury Glacier nodded. "Onions are good," Glacier replied. "But I'm usually not too fussy over what I eat. It's only really swee things that I can eat and I prefer to keep things simple. If you gave me a potato, I'd quite happily take a bite out of it, even if it's raw. Heck, I've eaten things that are poisonous on countless occasions."

@@Gloomfury "I've always known I've never been a fan of sweet things," Glacier explained. "Even as a young filly, I was never of fan of sugary things. The only reason I've tried alcohol is because my father gave me a small bit of cider when I turned 18. And whilst, as you said, there are different things that can happen when drunk, I'd rather not take the chance. As much as death is an inevitability, it is not my job to bring it to ponies I've never met."

@@Gloomfury Following Shamrock's example, Glacier put the ice cream cone into her mouth, chewed it and swallowed. "No, I have had alcohol before," Glacier replied. "It wasn't bad but it wasn't that great either. Besides, I don't particularly like the idea of it. If I get violent when I have alcohol, then it's not going to be a pretty sight. I don't mind going to the pub with you but I won't be drinking anything. There's probably a clean stream somewhere I can drink from."

Glacier stared intently as Shamrock gave her guidance. She followed behind whilst licking her ice cream. Despite her new approach, Glacier still shook at the sweetness of the food. "I can't really say that iced cream has been a particularly enjoyable experience," she said. "Are all of the iced creams like this? If so, I don't think they're for me. What are we going to do after we've finished?"