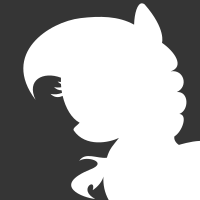 Content Count

11

Joined

Last visited
About Emopettingzoo
Rank

Muffin

Birthday

2001-08-02
Profile Information
Gender

Not Telling

Location

Pueblo colorado

Personal Motto

Shoot for the moon, even if you fail you will land among the stars.

Interests

DJ, writing, Programming, Watching MLP:FiM
MLP Forums
Favorite Forum Section

Show Discussion
My Little Pony: Friendship is Magic
Best Anthropomorphic FiM Race

Pegasus
Lol it is on bro. I can't wait to meet you. Just look for the skinny 14 year old male emo kid wearing a vinal scratch shirt. My Bff will be wearing a pinkie pie shirt. See you there.

So I'm going to running of the leaves. Who else is?

Who is the most interesting brony you know?

I have a social studies teacher Who has a rainbow dash pillow in her classroom. She is an awesome teacher. I was wondering if anything similar has happens to you guys?

Hey my name is Holden, I'm a young writer who is working on getting a real book published. My wattpad username is fryguy5. Pm if you need anything! I mean anything when I say that.

Please post your favorite dubstep artist and how you got into it. I look forward to the response from you guys. -DJ 3PZ

So if you are big fan of dubstep,writing, math, or a nerd in general, I think we should get to know each other. I'm Holden Grasso, a 14 year old closet brony who lives in Pueblo Colorado. I have a 105% in algebra 1 and love fellow bronys.