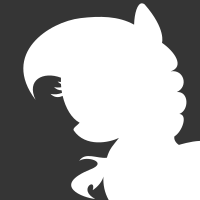 Content count

56

Joined

Last visited
Community Reputation
78
Brohoofs
About EmbodimentOfCringe
Rank

Cupcake

Birthday
Profile Information
Gender

Not Telling

Location

a whole new world

Interests

Nin10doh
EmbodimentOfCringe replied to Mint Petal's topic in Forum Lounge

Wow, I got 50% sleep last night. My hype for my new iphone 4 and new pony kept me up all night Let'sa go pony episode. IM READY.

EmbodimentOfCringe replied to Discord!'s topic in Forum Games

If this thread is how I think it works... I win

Banned for being an admin when I am not.

Sorry to say, I would chose to be Luna's slave rather than princess trollestia

Thinking about cloudsdale, it is pretty neat

Hi phunkthisnoise, and If you don't reconize this user.... It's abcdude

I remember it was may. I think I just started watching HUB when commercials came on and I was like "WOW THAT LOOKS SUPAH STUPID LOL" *Two days later* "I love this show."

Could you do one with finn and jake, MLP, gumball, phineas and ferb, rayman, mario, sonic and link? (That is called.... A CHALLENGE)

Banned cause... I still have the nightmares

Disco discord, rainbow spike and applerliar.

Great, I would de great stuff with my sisters figureines before she LOST THEM

And WHAT EVER DID HAPPEN TO YOUR PHIONEX????