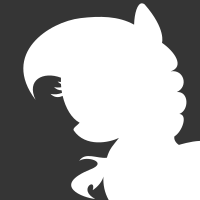 Content Count

2628

Joined

Last visited
About ggg-2
Rank

Griffon

Birthday

10/13/1992
Profile Information
Gender

Male

Location

Emporia, KS
My Little Pony: Friendship is Magic
Best Anthropomorphic FiM Race

Best Season
No idea "We are going for a ride. By which i mean the carpool! Perhaps we will go get yogurt"

No idea. "Mr. Orange was breakdancing before breakdancing was breakdancing!"

That could be anything. "This just arrived for you, Herr Baron." "Okay, who's the vise guy?"

Pirates! Band of Misfits "I want to watch the scum of the world struggle to climb up the hill of betterment. Only to repeatedly trip, and tumble down to the fiery pit of failure."

Last time i made a thread about this Youtube channel it was when they did Sapphire Cupcakes and today they finally made Zap Apple Jam!

Finally someone gets it! Yours is Johnny Bravo. "Did i do that?"

Family Guy by Brian after fighting with Quagmire "Ripoff artist!"

No idea "I laugh at gravity all the time! Ha ha! Gravity!"

Loud House! "I am not a froot loop!"

@Woohoo Helluva Boss pilot @C. Thunder DashNo idea "There's no ice! There's never been any ice! Ice is just a myth!"

Futurama "You know, now that i have my hammer-screwdriver i can reanimate him without the needless switching of tools. That's always tedious and ANNOYING!"

No idea "There's gonna be caribou chili tonight boys!" " Ugh lugh lugh yeah! Ugh lugh lugh yeah! Ooooooh Caribou!!!!"