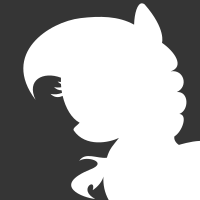 SpongeBobsLittlePony
Muffins
Content count

10

Joined

Last visited
Community Reputation
27
Brohoofs
About SpongeBobsLittlePony
Rank

Muffin

Birthday

01/03/1999
Profile Information
Gender

Male

Location

Rochester, New York
My Little Pony: Friendship is Magic
MLP Forums
Opt-in to site ads?

Yes

Favorite Forum Section
SpongeBobsLittlePony replied to Discord!'s topic in Forum Games

Please don't reply after this!

Congratulations, @Miss Reaper! I'm sure that you'll do just fine as a Staff Member, here!

To me, it seems like Apple or Beats (which is owned by Apple)...

Well, I mean I sort of, kind of, understand why they may have thought that I was a troll... However, I wasn't trolling, because, it was completely unintentional!

Well, what about people who get mistaken for trolls? That's happened to me, before...

Is it possible to make it automatically merge, anymore or not?

Thank you, too, @Totally Lyra!

Hmm... i didn't realize that that even existed, in the first place! Awesome!

SpongeBobsLittlePony replied to a very surprised scootaloo's topic in Media Discussion

Rick And Morty. I just finished it (for now)...

No, although, I've been called a troll and was even banned from a forum because they thought that I was a troll (I'm not and I was recently unbanned from it).

1. Become a scientist (it's probably going to take a lot longer than that, though)... 2. Go to all 50 states (again, it'll probably take a lot longer than that). 3. Get rich (probably never going to happen, but, a guy can dream, can't he)? 4. Buy a house (although living with my parents is fine, for now)... 5. Go to college! Hey, no one said that they had to be realistic...