Finally time to revive my blog, but unfortunately it won't be something upbeat like last time. This is somewhat of a farewell letter to all of my friends here just in case I don't come back.
If you don't know about my current situation you may be asking yourself why I'm leaving. Well to start things off you can check out my latest status updates to see how I'm dealing with it. Basically, my mother doesn't want me to be on the forums, and coincidentally at the same time, my boyfriend here, Dsanders, is also being forced to leave the forums. It is a very tough time for the both of us since this is our home away from home, our internet family, and we love spending time on here talking to our friends and of course each other. However due to our current situations we may not even get to talk to each other as frequently anymore. If you want to learn more about what he's going through, you can go here to read all about it. I warn you though, you might shed some tears.
The reason why these forums are so special to me is because despite at first just being a place where I could socialize with lots of people and kill off my boredom, it became something very significant in my life. I found myself logging on when I had an argument with my mother and just wanted to cheer myself up. My friends here have always given me advice and helped me get through these past few months of my life. I don't know what I would have done without you guys, and I can't thank you enough for all the support and friendship you have given me during my time here. These forums really do reflect the magic of friendship and what makes it so great, and I never thought I would think of internet friendships as real and close as my irl friendships. Sadly though I may not be able to cherish these friendships anymore for much longer.
I have tried constantly to get on when my mom isn't looking just to check up on my friends, and kill off my boredom, but eventually I was doomed to get caught. It's happened before, but the supervision hasn't been so tight, now however it will be. I have been writing this while she's resting in bed because she's not doing so well right now and I'm always praying for her health, but despite how much I love and respect her, I will always hate how she's separating me from my friends and of course my one true love.
Me and Dsanders met here when I was a member for about a month or two, we talked casually at first as regular friends do, but something about him made the conversations seem endless and amazing. I never got bored of them and I still don't. I even stayed up till 4 in the morning sometimes talking to him when my mom was away. Sadly due to him starting senior year those late night conversations got cut off, but our bond kept strengthening until I realized I had a crush on him. This had never happened to me before and it felt strange to finally have feelings for a boy, especially online of all places. I didn't know he felt the same way until he posted on a thread that he had a crush on me, and shortly after a month long separation from the forums on my part, he asked me to be his girlfriend. I accepted happily and ever since then our love for each other has just grown stronger. Our bond is truly unbreakable, and no amount of hardships has been able to tear us apart, not even this one at the moment.
Since we are both leaving the forums (although I will still try to get on whenever my mom isn't watching, but that may be rare and definitely less frequent than usual) our communication will definitely be at a limit. His parents are still letting him stay in contact with me thankfully and I will try my best to talk to him via another site or Skype. Since my mom is monitoring everything that may prove difficult but I will fight to keep this love alive, because I don't want to lose the boy I love.
So thank you Chris for making my life absolutely wonderful since we first started this relationship, and I know we will keep fighting so it can live on forever.
Even if my situation may get harder and we may be forced to cease overall communication for a very long time, I will never forget you and I promise with all of my heart that I will never abandon you for another. You are the only boy I can love, and I won't ever forget about the wonderful times we've had together. And as for all of my amazing friends on here, even if I never got to know a lot of you personally, you are all great people and I will never forget you either. You will always hold a special place in my heart and you will always be my friends.
Goodbye until further notice. I'm not sure how much I can come on from now on, but I may randomly pop in every now and then if possible. Thank you everybody, keep calm and pony on.

For Sanderspie: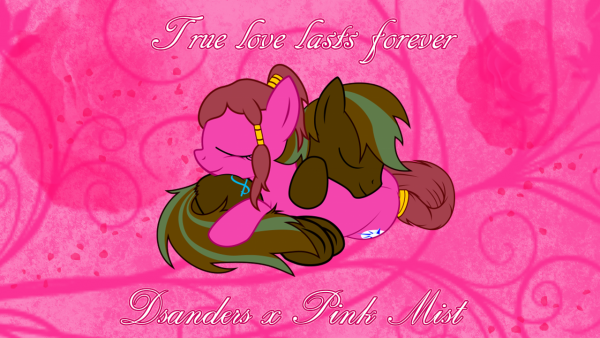 33