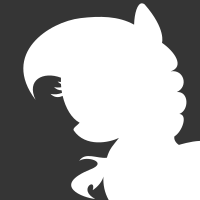 Content count

1916

Joined

Last visited
That's funny. Celestia didn't look like old age was affecting when she started prancing after Twilight asked her to be the lead role in her play for her once-a-versary.

That's because villains only care about themselves. As far as they're concerned, it's not their fault civilians got hurt, but the civilians' fault for getting in the way in the first place.

Pretty much all of the Imperium of Man, if only for their technology, design, ships, vehicles, and weapons. Their anti-alien policy is kinda fascist, although considering the alien species in Warhammer 40k include Orks, Tyranids, Necrons, and Dark Eldar (and the Craftworld Eldar, considering their low opinion on humanity), it's no wonder they're xenophobic.

She probably did give it back, since she has the Castle of Friendship, now.

Know any Faux-80's rock and roll songs?

You never would have guessed that Twilight used to be asocial.

Is Applejack really that unpopular?

Is Applejack really that unpopular?

I respectfully disagree with Season 6 being close to being the best. Too underwhelming.

What would Starlight think of Napoleon from Animal Farm.

Your stubbornness knows no boundaries.

Educate yourself. Flurry Heart Flurry Heart is an Alicorn filly born to Shining Armor and Princess Cadance in the season six premiere. Some promotional material titles her the "first"[note 1] baby Alicorn, though a So Soft Newborn toy of Princess Skyla, another Alicorn, was released years beforehand, and the book The Journal of the Two Sisters suggests that Celestia and Luna, as well as other Alicorns, were born as Alicorns too. In The Crystalling - Part 1, Celestia comments, "The birth of an Alicorn is something Equestria has never seen!" Her horn and wings are larger than either of those of the Cake foals and of other baby ponies featured in the show and in other official material(s). When Twilight and her friends see Flurry Heart for the first time, they are taken aback by her unfurled wings. http://mlp.wikia.com/wiki/The_Journal_of_the_Two_Sisters

Well, at least we know Twilight doesn't have a symbiotic link with the Tree of Harmony, otherwise she'd have felt the Mean 6 pounding on it.