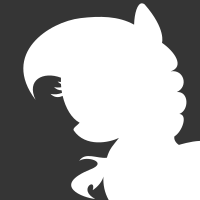 Content count

328

Joined

Last visited
Community Reputation
117
Brohoofs
About bwrosas
Rank

Squirrel

Birthday
Did anyone not catch this small detail, Rarity has " Stars in her eyes" when Spike is singing to her. And if your a romantic or know anything about Romance storytelling, "Stars in their Eyes" at most times, means that was just a friendship, has now become something more. Just thought I'd point that out. ps. Don't be surprised if Sparity is subtle used in Season 9 (should it be the last).

Netflix now has the special on it's service, but you have to search for it.

Yeah, but when you think about it, this may be the way they make Sparity, semi-canon/official as the series nears it's final seasons (10 would be just right).

Got This SDCC 2018 exclusive recently via amazon

I'm surprised, no one brought this up, cause if you're into shipping, this is an interesting thing that they did, When the drawing of names/cutie marks occurred,, (along with the trade), check out this unique situation, Spike (after the trade) got Rarity, and AppleJack got Spike., and Rarity got Applejack. So if you're a RaraJack, Sparity,or Appllespike shipping, I hope you saw what they did there.

With The 8th Anniversary of My Little Pony: Friendship Is Magic happening, I discuss the 2 (perhaps 3) things that got me into the fandom Comments are Welcomed #Sparity #Rarity_mlp #SpikeTheDragon #Rarity_X_Spike #Spike_X_Rarity #StarlightGlimmer #AppleJack #Starlight_X_Spike #Applejack_X_Spike #MLPFIM #MLPShipping #MLPMOVIE #MYLITTLEPONY #MYLITTLEPONY_FRIENDSHIPISMAGIC #TheBestGiftEver #ThePerpectPear #RARITY_MLP #SPIKE_MLP #SPARITY_MLP #MISANTHROPONY #MLP_SilverQuill #LightingBliss #Firebrand #GoldenFox #Keyframe #DrWolf001 #Brony #Bronies #Pegasister #Pegasisters #MLP_8thAnniversary

Show of hands/hooves, who seen Family Matters? Does Steve and Laura Ring a Bell? How did the thing between them start and how did it ultimately end (when the series was done) and how long did it take to get too? And how many bumps and obstacles did it go through, before they finally ended up together? Point I have with that, is Spike and Rarity are somewhat similar in a sense. (And please don't mention "Age" as an excuse as why they shouldn't be, let's not go there.) The point, is how many seasons did it take for Laura and Steve to finally be together, about 9 whole seasons, which ironically is just about what MLP FIM is coming up too. And it took special episode towards the end of S9 for Laura and Steve to wind up together. And ironically, it takes one Hoilday special for Rarity and Spike (Spairty) to become semi/if not officially canon in FIM. I know it sounds confusing, but trust me, when you put the pieces together, you'll understand. Hmmm..., makes you wonder if the creative staff were big Family Matters fans and fans of Steve and Laura being/ending up together.

Understood, But after this scene, fans are starting to question that.

I understand that Sparity is not everyone'scup of tea. And I can respect that. However, please think about this for a moment, why was Sparity brought back to the forefront in Season 8 and The Best Gift Ever. Honestly, In my humble opinion, when you look at the theme for #mlpseason8 , and how it's about not just about testing the strength of the Mane 6, Spike , Starlight and even Trixie's friendship. But, how it's also about accepting those for who they are and what they are. And Spike and Rarity have been a prime example of that since the beginning of the series. True, it's push was somewhat simmered down for seasons, like 4-7, with a few moments here and there, but still it was seen when need be. Now did they have to bring Sparity back into the spotlight in S8?, No, not really, however, a couple of things happened: , 1. Nicole Dubuc took over as executive producer, and 2. The reason it was brought back was, because, as I said, it was the best example of accepting somepony/creature for who and what they are, since the start, and Nicole Dubuc possibly saw and realized this, thus, the reason it's flame was reignited in Season 8. And like some fans have pointed out, we need resolution to this relationship, and well it may not be "the" resolution anypony else is looking for, still, Spike and Rarity being together, is somewhat of resolution. Also look at it this way,: Spike has really matured and grown as a character, that even through he still has a few unlikeable dragon traits in him, the earlier seasons version of Spike wouldn't have taken the time to write a "Hearts and Hooves Day" proem for Rarity or in the case of the ending of the "Best Gift Ever" wrote a song for her. A song, that by the way, many have consider just as heartfelt and emotional as Buttercup's song to Bright Mac in "The Perfect Pear". Yes, you can even ask Ari and Lighting and even josh scorcher about the song's effect on them. And I even said, that this ship was now (however you look at it), became Semi-Canon/Canon and Semi-Official/Official in FIM. But as I said at the start, I do respect other's opinions on the whole Sparity matter. So I hope you all took the time to read this. It's just something I had to get off chest. So thank you and God Bless

The 0nly 4 things that some took issue with this special, but not enough to ruin the overall enjoyment, were: 1. The Airdate of the debut, which was (at the time) 4 days from Halloween. But when you think about it, it's really no different, because when you look at Hallmark Channel, they were doing Christmas Movies ever weekend recently to get ready for their Countdown To Christmas Deal, that started a day before this special debut. Also, retail stores already were getting ready for Christmas, around the same time they were getting ready for Halloween. So it may be unusual to some, but it's not really out of the ordinary. 2. Was the whole Sub-plot of Sparity, mostly Spike wanting to get a gift for Rarity, and when he finds out he didn't get her, the lengths he goes to, to get her, even going as far as a quick talking/smooth talking Fluttershy into a trade (because she just happens to have Rarity, and Spike has RD), is one things fans didn't like. But as I said before, Fluttershy being herself, wouldn't have minded (even if she found out about it later, off-screen), and if made Spike happy, that's all that really would mattered to her. 3. And speaking of Fluttershy, folks didn't like the way, that it seemed she had regressed back to earlier season Fluttershy, with how gullible she has to Film and Flam's con, or oblivious to Spike Trick switching her (which I talked about above this), but that seem to all be redeemed at the end with her saving the day, by taming the Winter-Zilla. And 4th. The whole situation with Mable Pie being heartbroken/sadden that Big Mac found somepony in Sugar Belle (this of course was during the opening montage song), but this seem to be quickly shrugged off later on in the special. But yet some fan didn't like that moment at the start. However, as I said, despite these just some of the small nitpicks fans had with this special, from what it sounds like, it didn't ruin their overall enjoyment of the Special. But what do you all think?

Question: If an over the air network was to broadcast this in late November and sometime in December , who do you think would be the better choice out of these 6 : CBS NBC ABC FOX THE CW MyNetworkTV My choice would be NBC! I think it's feel like the right fit to air this over the air. But what about you all?

It can be, it just depends on who the writer/writers are, and how much time they are given, and it may seem that they had enough time to put lots of love and effort into this. When you think of it, it feels like a bit of love letter to the adult fans, with it's references and a certain ship that was of the main focuses here. Yeah it can still prove why it became the phenomenal it is today.

This really put me in the Christmas Mood, and Halloween is only 4 days away. Looking more towards Christmas thanks to this special! JOB WELL DONE!!!!!!!!!!! And if any doubted Sparity still existing, this proves it's STRONGER THAN EVER! And as far as it debuting in October, hey Hallmark Channel's already started it's Christmas Movie season, better to get a head start! 100/100 on animation, character development, and songs!, but most 100/100 on SPARITY BEING CANON AND OFFICIAL!

I mean, honestly,the question I (along with other fans) have is, "What's the Difference?" Now, one could point out, that Applejack and Starlight wouldn't use any feminine charm on Spike and would be the kind of characters that would except him for who he is, and be down to earth with him. But I think Trent Osborne (Fellow Fan and Youtuber) said it best in the comments, (which for some odd reason were removed from audio/video on this): Now, he did go on to add more, but again those comments are were removed for some reason. But the overall take from those comments are, just because the show staff has yet to REALLY address this, and with the potential that S9 could be it, we (more than likely) will get the resolution there, and from some odd reason, (just a gut feeling I have), I feel that they will have an episode where Rarity x Spike officially become an item, however it will be done in a very subtle way, in other words, we'll see it happen, but come the following episode, it will be it didn't happen, but we (as fans and viewers) will know it did (I mean when watch the show, the episodes, while remaining in the seasonal timeline/continuity , don't always acknowledge moments from pervious episodes in that season, unless it's a two-parter or necessary , like in "Horse Play"). But despite that, again I ask , "What's The Big Difference"? Because if you're going by age difference, same applies to AJ and Starlight. And also, let's look at it this way, if they wanted to put this Sparity to bed, they would have done so a long time ago, but as you can see from this recent season, it's still as strong as ever. Also, remember this, Lauren Faust wanted to use Spike as our eyes/POV to see how beautiful Rarity was/is, I'm sure she didn't expect this whole Sparity thing to come from it, but yet here we are. So yeah, if you more on this, check out my audiovideo (located in the video fan art section of these MLPForums). But what's you take on it?