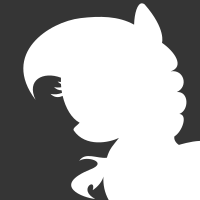 Content Count

11,421

Joined

Last visited
Profiles
Forums
Character Archive
Frequently Asked Questions and Helpful Hints
Equestrian Empire Character Archive
Pony Roleplay Characters
Calendar
Blogs
Store
Everything posted by Anti-Villain
This song's title couldn't be any more ironic:

Same reason why Sombra pre-S9 (Comics included) was one of my favorite villains.

One of my great-uncles died.

"Ed's got 3 nipples, like that bad guy in James Bond…!"

"Mario's gonna do something very illegal"

"You're, like, 5 minutes from gone; and you leave with that? …You know - that's like cutting a huge fart, and then walking out of the room. And that's how we'll remember you: as a big fart."

Who could forget best hecklers?

"No, I stole his shoe. Now stop interrupting!"

He saw where TLJ and TROS would take his character, too.

Garble, Caballeron, and Ahuizotl need to be added.

Doing nothing with Silver Spoon or Diamond Tiara after redeeming them. Never revealing Spike's biological parent(s). And ignoring every idea from Sombra's comics - despite using ideas from The Journal Of The Two Sisters (Horse Play), Tirek's issue of FIENDship Is Magic (The Ending Of The End), etc.

"I'll leave the hero-chunking to you."

"She looks… like a good… strong… waifu… doesn't she?"

"-- The Dissin' of Phoenix Wright --"

For me, his S9 self. Too inconsistent with his S3-S5 self, a less-interesting override of his Comic self, and the most-annoying of the three.

And/or that they'll have someone write some expanded-universe books to develop G5's most-underrated villain… then just ignore them in favor of using the villain as little more than fodder for another.