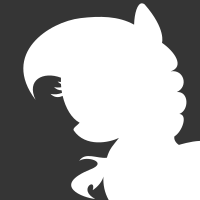 Content Count

190

Joined

Last visited
About Scootaloo1
Rank

Parasprite

Birthday

1994-01-28
Contact Methods
Skype

ask

YouTube

plantationvideos

Steam ID

ask
Profile Information
Gender

Not Telling

Location

Ginnungagap

Interests

Flying, scooting, running, finding my cutie mark, eating tree sap.... oh, and RAINBOW DASH!
I only want what's best for you :<

http-~~-//www.youtube.com/watch?v=b0EPCFy8Xpw (For gameboy colour, it's pretty amazing) And every other song from the X/Xtreme Series

I felt like splurging on a pair of $100 headphones... best decision ever... I feel like I'm in a tornado of amazing

The history of Twilight. In the future, a two android fillies are created, to help with some dangerous jobs around Equestria... they go Maverick, and begin attacking everypony. Twilight is the last remaining pony, as the rest of the mane 6 are destroyed. living in fear, she creates a time machine to go back to the past to save it... I can imagine it now... "If they set those fillies free, it'll be the end of all of us! NO!"