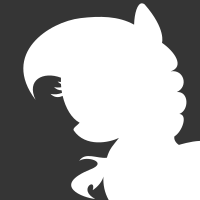 Content Count

16

Joined

Last visited
About 224141262641
Rank

Muffin

Birthday
My Little Pony: Friendship is Magic
Best Anthropomorphic FiM Race
235y43456423642542235y43456423642542235y43456423642542

https://www.youtube.com/watch?v=IRvGZffXhfk Been stuck in my head. All. Day

Plans in my pants (Plans - Birds of Tokyo) This actually made me laugh

https://www.youtube.com/watch?v=MZ_fXybPq1Q BOOOLLLOOOCCCKKKSSSS

http://www.youtube.com/watch?v=d5f966vztPk Watching, waiting, shaping, faking, shocking, pumping, mocking, stopping, falling, stalling, warning, crawling, rejecting, perfecting, marauding, ending - Repeat for another 20 damn minutes

Metal Gear Rising: Revengeance had some damn epic fights, with some mighty fine music. I haven't played any other Metal Gear games but that was just too good. Best fight in the game would have to be Metal Gear Ray, right at the start. Just because RULES OF NATURE https://www.youtube.com/watch?v=jTQIogLBFBs

Yes! I'm currently early into Act 6 and my gawd it was worth pushing through. I wasn't enjoying it much at first, but I heard many people say it gets better and it certainly did. Cascade is the best thing I have witnessed so far. I have watched it multiple times as it was just too good. It also made me watch Con Air. Put the bunneh back in the box

People seem to be really fussy about the pony creator, but I don't mind it at all. Sure, original artwork can look better but some people aren't confident about their drawings so it's a great alternative for presenting their OC!