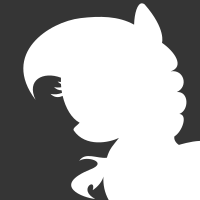 Content Count

36

Joined

Last visited
About The Ultimate Brony
Rank

I am awesome. You know I'm awesome. Tubbie is back.

Birthday
Profile Information
Gender

Not Telling

Location

Nowhere
My Little Pony: Friendship is Magic
Best Pony

0

Best Anthropomorphic FiM Race
Wasn't here for a LONG time, bud. I always skim through the first few pages of a thread.

You dug your own grave. Oh fucking shit... CLARITY IS THE BEST AJ FAN!!!!!!!!!!!!!!!!!!!!!!!!!!!!11 (Clarity please don't kill us)

If I were to be discorded, I would have bad spelling, rage throwing my desk when I get counter-trolled, and , excuse my frank language actually give a fuck.

No, he doesn't exist, and if he were to be he is just stalking you because he wants $20 dollars. The only thing that creeps me out about that guy is that I don't have $20 dollars.

Well, here's mine as well: -Is trolling mostly all the time -Has a neg rep in the WoT forums for a controversial thread -Has a lot of profile views -Pretty much liked around the forum -Trumps people in a logic debate -Acts like Rainbow Dash when he has no sleep Well there is my overall reputation on forums. Reply to Clarity: Why you...

The 4th one, it shows her doing an awesome rainboom. (Which is awesome) As a matter of fact can I use one of the pictures as my background?

Closet Brony, I definitely don't want my haters thinking I'm a brony. It will get ugly, trust me on this one, where I am. Haters are everywhere.

http://objection.mrdictionary.net/go.php?n=6231383

I don't mean to be insensitive but the last photo, if it was tilted to the side by 6 degrees it would look like Jeff the Killer's girlfriend. Again, no offense meant.

Well that makes 3 of us, I also hate Rebecca Black, Justin Bieber, idiots, and annoying Pricks.I like Mint Chip Ice Cream, bananas, and Oppa Gangnam Style (Psy).